Should you buy or sell Amazon stocks ahead of tomorrow's quarterly earnings?
Amazon presents the financial results for the first quarter of 2022 tomorrow. Investors expect EPS of $8.5 on the quarter.
The tech sector in the United States had a rough start to the trading year. After recovering some of its earlier losses, tech companies are sold again.
Amazon, which reports its financial performance for the first three months of the year tomorrow, dropped by more than 4% yesterday. Investors did not like that Alphabet, the company behind Google, missed the market's estimates, so other tech stocks declined.
Amazon's stock price lost about -18% in the past twelve months, despite the company constantly reporting better than expected results. For the first quarter of 2022, the market expects EPS of $8.5 and the annual revenue estimate for the fiscal period ending December 2022 is $540.24 billion.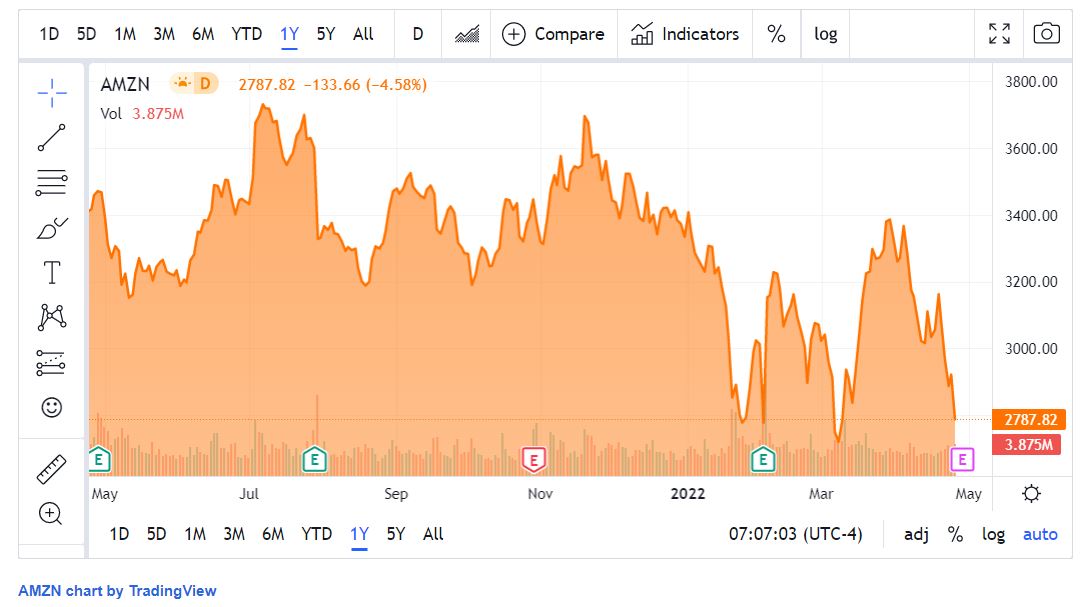 How does Amazon make money?
Amazon makes most of its revenue from selling physical and digital products online. This part of Amazon's business makes up about 50% of all its revenues.
On top of that, Amazon 3.6% of revenue is generated by physical stores. Moving forward, the Prime membership adds another 6.8%, while Amazon Web Services and Third Party Services are responsible for the rest.
What does analysts say about Amazon's stock price?
Out of 100 analysts covering Amazon's stock price, there is 1 analyst that issued a sell recommendation and 1 has a neutral one. The rest have issued a buy recommendation.
Most recently, Rosenblatt, UBS, Citigroup, and Cowen and Company, have maintained their buy rating for the Amazon stock price with a price target of $3,000, $4,550, $4,100 and $4,400.