Should you buy Salesforce stocks after reporting better than expected Q1 2023 earnings?
Salesforce has beaten expectations for the first quarter of its fiscal 2023, and the stock price is up over 8% in pre-market hours. Should you buy it?
One of the companies in focus this week was Salesforce. It reported its quarterly earnings yesterday, delivering much better than expected results.
Moreover, managers lifted forward guidance. As a result, the stock price is higher by over 8% in pre-market trading hours.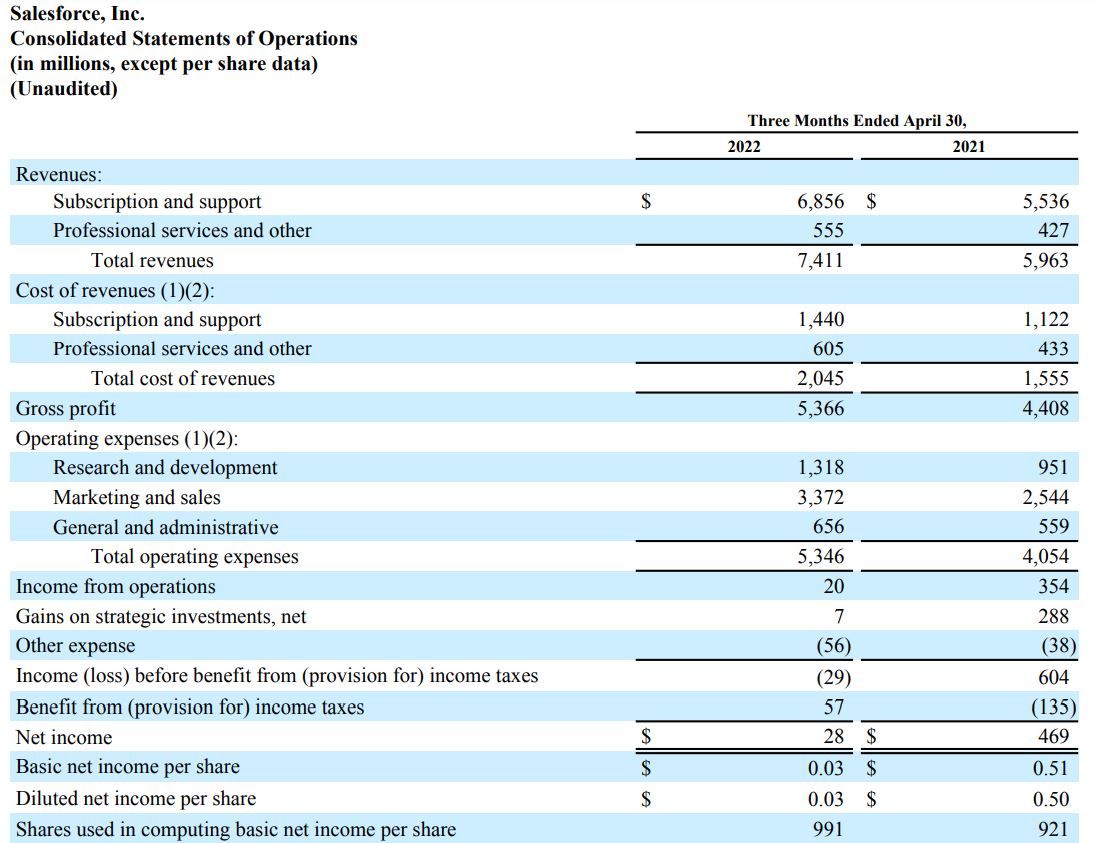 Q1 FY2023 highlights
Perhaps the biggest positive surprise came from the quarterly revenues. They jumped by 24% YoY, 26% in constant currency.
Moreover, the first-quarter operating cash flow rose by 14% YoY, reaching $3.68 billion. Finally, the Q2 FY2023 revenue guidance was improved by about 21% YoY, and full-year revenue guidance by about 21% higher as well.
How did Salesforce's stock price perform recently?
Salesforce's stock price declined by more than -37% YTD, as the tech sector was under pressure. As such, the rise seen today in pre-market trading hours comes to alleviate some of the pain felt by long-term investors believing in the company's path to success.
What did analysts say about Salesforce's stock price before the quarterly earnings call?
Analysts are mostly bullish about Salesforce's stock price. Out of the 95 analysts covering the stock, 64 have buy recommendations and 29 have neutral ones. Only 2 analysts have issued a sell recommendation for Salesforce's stock price.
Just before the Q1 FY2023 earnings call, Salesforce was upgraded to buy at ROTH Capital Partners, with a $242/share price target. Also, Oppenheimer and Jefferies maintained their buy rating with a price target of $205/share, respectively $260/share.
All in all, Salesforce's quarterly results and the improved forward guidance come as a relief for the tech market investors. After the declines in 2022, it may be that the tech sector is ready for a strong comeback.