Should you buy Twitter stocks after Elon Musk bought a 9.2% stake?
Twitter shares jumped 27.12% yesterday after Elon Musk revealed a 9.2% stake. Should you buy Twitter stocks?
News broke yesterday that Elon Musk, Tesla's CEO, became the largest shareholder in Twitter. According to the Security and Exchange Commission (SEC), Musk has taken a 9.2% stake in Twitter, and the news sent the price of Twitter shares higher by close to 30%.
Twitter operates one of the most popular and influential social media platforms globally. Tens of millions of people follow Musk's account, and the Fintwit community is one of the most respected in the financial industry.
Twitter shares struggled for a long time. For instance, the share price is up 11.29% in the past 10 years, as the company has had difficulty monetizing its popularity.
Nevertheless, Twitter is a profitable company. While not paying a dividend, it operates with a gross profit margin for the past twelve months of 64.60%, higher than the sector median by 27.10%.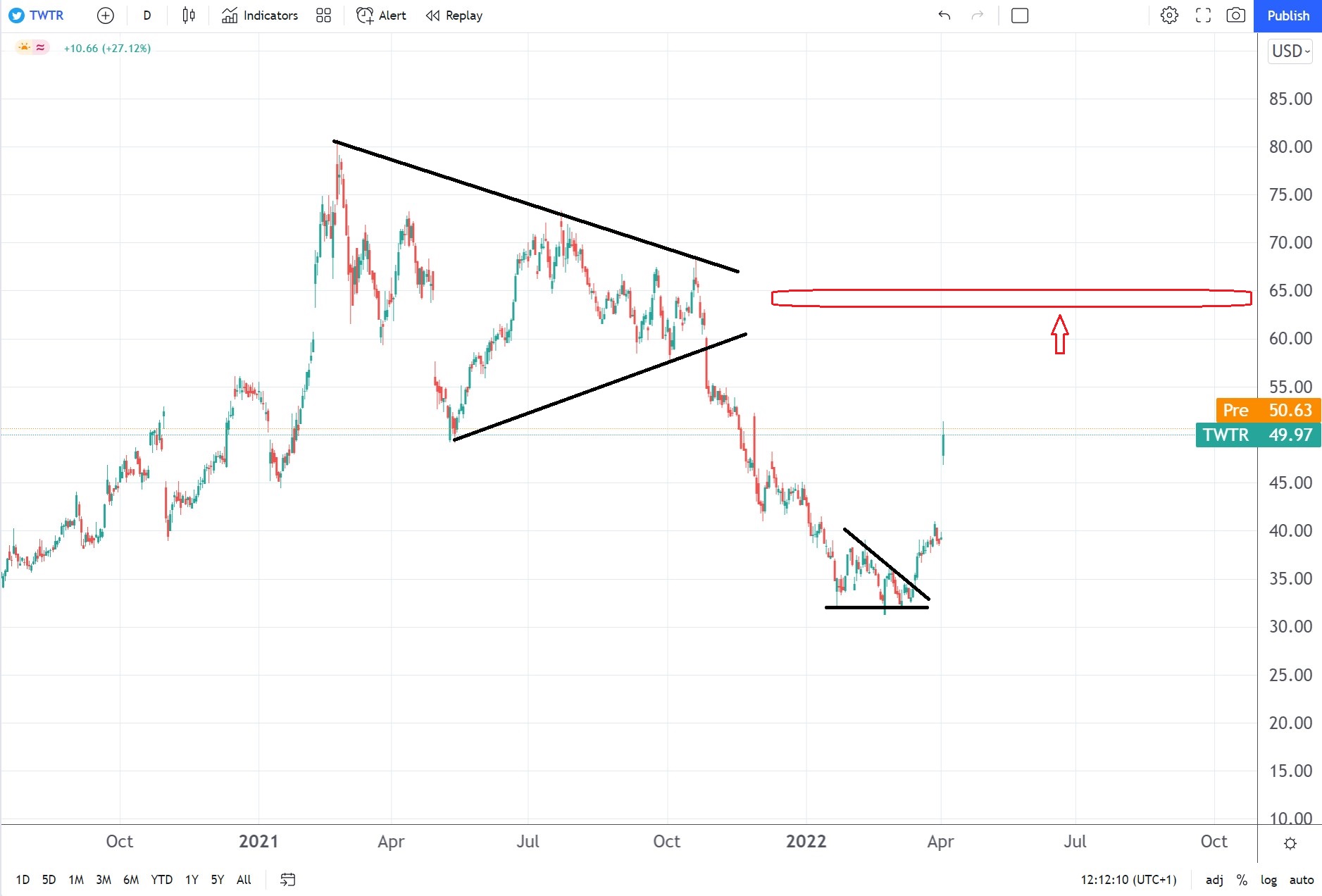 Twitter's share price is heading to a pivotal area
From a technical analysis perspective, Twitter's stock price broke out of a triangular consolidation that acted as a reversal pattern. The market is seen higher ahead of the US trading hours, and there is little or no resistance until the pivotal $65 area.
That level represents the apex of a previous contracting triangle that led to the recent downtrend. As such, a daily close above $65 shifts the bias decisively bullish.
At the current market price, Twitter's market capitalization reached $31.41 billion and its enterprise value $30.56 billion. Investors expect the annual revenue to reach $6 billion at the end of the fiscal period in December 2022.
Analysts were not overly optimistic about Twitter prior to Elon Musk's announcement. For example, out of the 76 analysts covering the stock price, 48 had neutral ratings, 25 had buy ratings, and 3 had sell ratings.
Twitter's net profit is expected to be $690 million by December 2022 and to increase to $2.23 billion by 2026. The P/E ratio is 47.91 and is forecast to decline to 15.84 by 2026.