Top 3 reasons why Dow Jones will make a new all-time high
Dow Jones is on a tear higher recently, and short-sellers are squeezed. Is it possible for the index to make a new all-time high?
US stocks trade with a bid tone, as seen by the Dow Jones index, which has recently traded higher by more than 2,000 points. Nothing seems to affect stocks – the Fed's new tightening cycle or the Russia-Ukraine war.
So is it possible for the Dow Jones index to make a new all-time high? Here are three reasons that support such a thesis:
The COVID-19 pandemic is no longer a threat
More upside suggested by the technical picture
The US is far away from the war in Eastern Europe
Pandemic is no longer a threat
First and foremost, the COVID-19 pandemic is no longer a threat to economies and the population. Vaccines proved to be efficient enough to reduce deaths and decrease the pressures on the health system.
Now that the economy is growing well above its potential, the Federal Reserve started to lift the federal funds rate. There is no need for further accommodation from the Fed, and this is good for stocks before the recent rate hike is too small compared to the inflation rate.
In other words, as long as the real yield is negative, stocks will keep finding buyers on dips.
Technical picture favors more upside
The technical picture shows the Dow Jones index breaking higher from a bullish triangle. This is a triangle that acted as a reversal pattern and it typically forms at the end of complex corrections.
As such, as long as the market remains above 33,000 points, the bullish bias dominates and an attempt at 36,000 is in the cards. From there on, it is only logical that the market will try to put a new all-time high.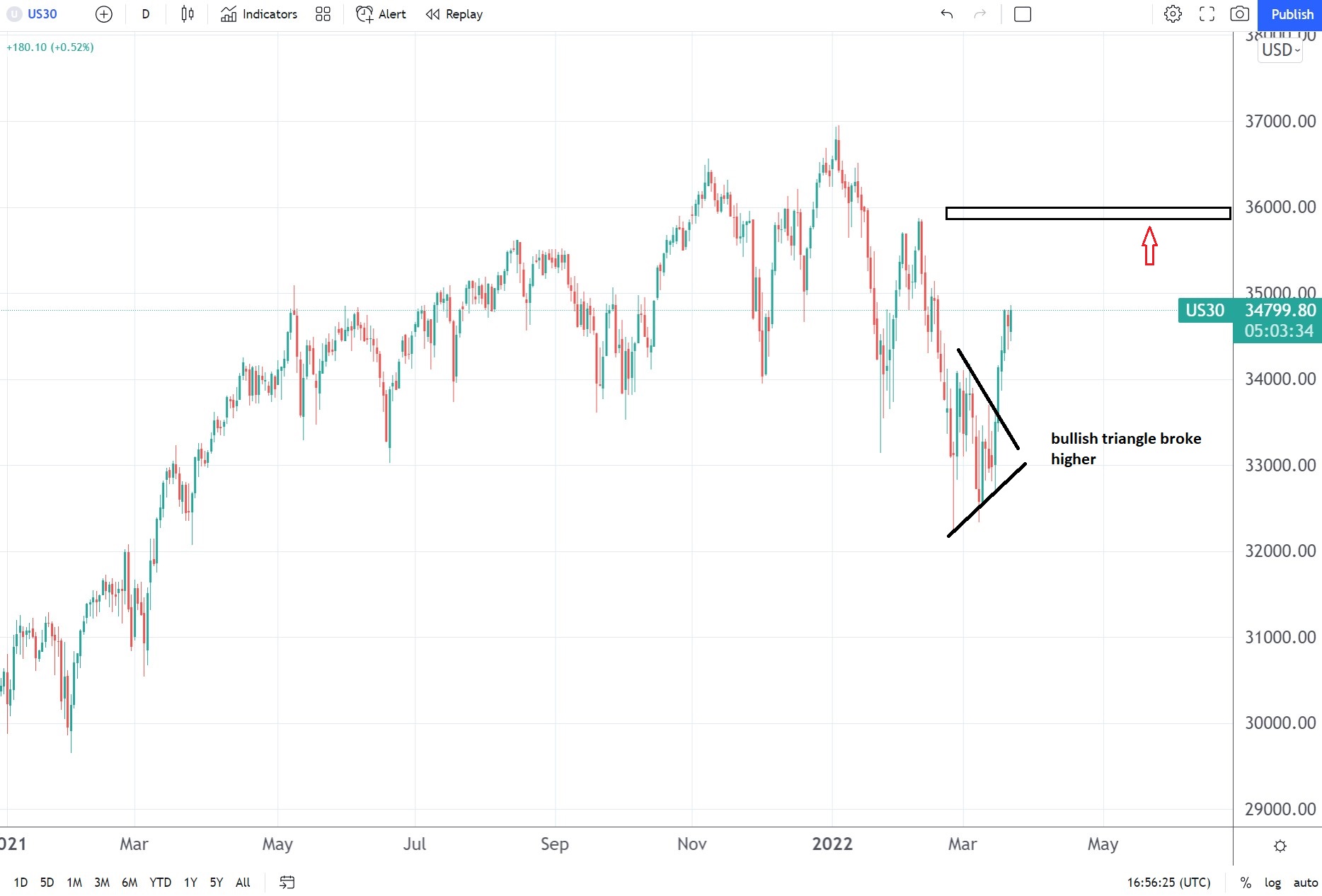 America is far away from the Russia-Ukraine conflict
The conflict in Eastern Europe brought a new dimension to 2022 and global geopolitics. Sure enough, supply chains will continue to be disrupted, and the war further fuels the already rising inflation.
But America benefits from the geographical distance from the conflict zone, and so investors would likely favor placing their money in the US rather than anywhere closer to Europe.