Top 4 economic events to move the FTSE 100 index this week
FTSE 100 bounced once again from horizontal support as buyers emerged. Here are 4 economic events this week that may send UK stocks to new highs.
An important week for the UK traders started, at least judging by the many economic events scheduled. FTSE 100, the main UK stock market index, bounced from horizontal support recently and is now threatening with a new high.
So what are the economic events that might push the FTSE 100 index higher? Here are 4 to consider this week: the UK CPI, BOE's Governor speech, the Annual Budget Release, and the Retail Sales.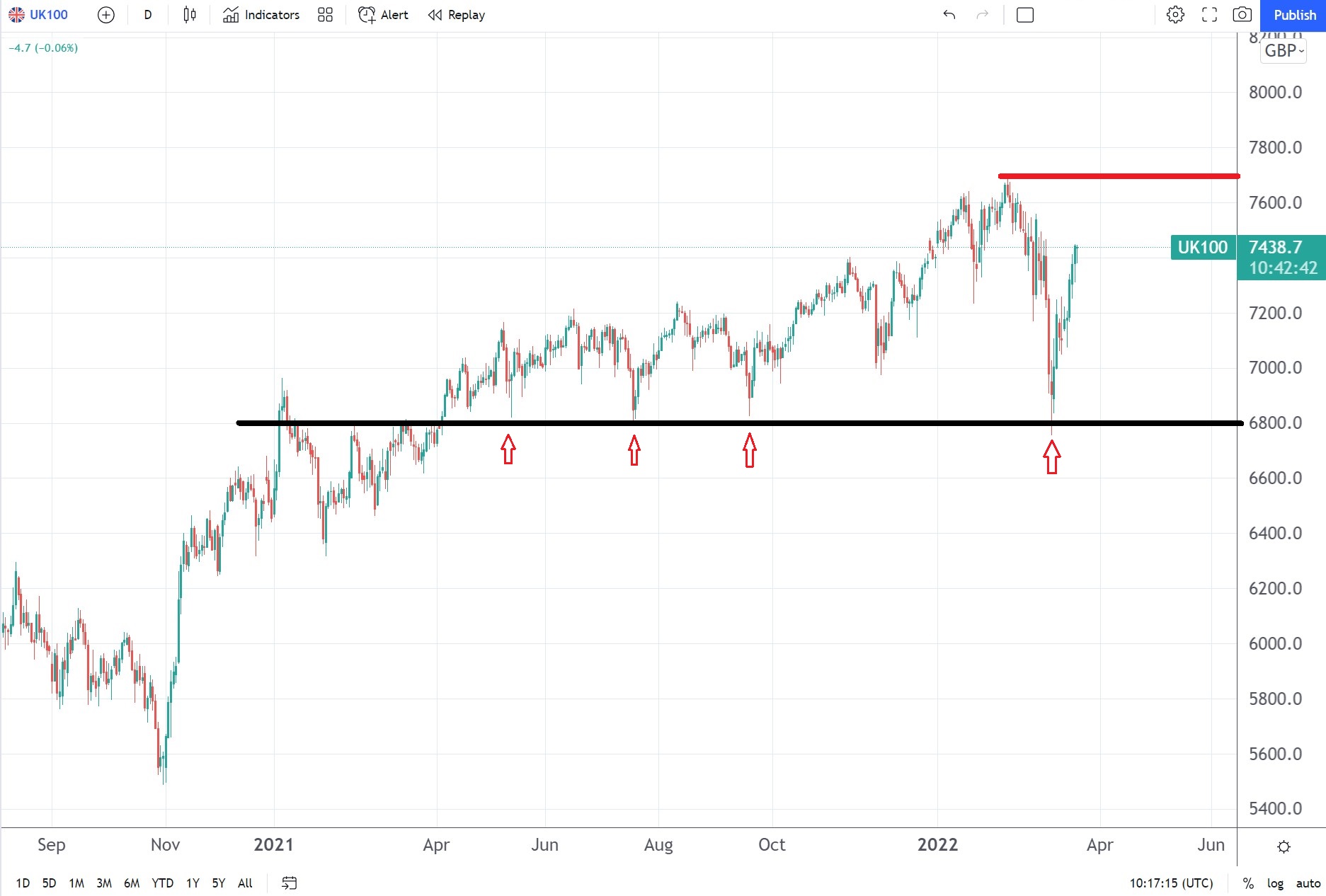 UK CPI
On Wednesday, the UK CPI data is due. Inflation in the United Kingdom is expected to reach 6% YoY, and any deviation from the forecast may trigger sharp moves in the FTSE 100.
Inflation is a hot topic lately as the COVID-19 pandemic and the war in Ukraine have led to a sharp increase in the prices of goods and services. For this reason, central banks have started tightening the monetary policy.
The Bank of England already has the bank rate at 0.75%, fearing higher inflation still to come. However, from a stock market's perspective, rising inflation should boost equities if the rate rises cannot keep up with the pace of inflation.
BOE's Governor speech
On the same day, the Bank of England (BOE)'s Governor, Andrew Bailey, participates in a virtual panel discussion hosted by the Bank for International Settlements. As always, when the Governor speaks, UK stocks are on the move.
Annual Budget Release
One of the main economic reports released in the country is the Annual Budget Release. While there is no fixed date for the release, it is expected to be out this week.
It contains vital economic data and projections for spending and income levels in the UK, as well as planned investments and financial objectives.
February Retail Sales
Finally, on Friday, the February Retail Sales are expected to show an increase of 0.6% MoM. Retail sales indicate consumer spending patterns and offer clues about the overall economic activity.
Overall, UK stocks are well bid, and the recent bounce further maintains the bullish bias. As such, an attempt at new highs should not be discounted.