Top 4 European stocks to buy in April
European stocks took a beating on the news that Russia invaded Ukraine. Now that they bounced from the lows, what are the best European stocks to buy in April?
When Russia invaded Ukraine several weeks ago, investors sold the common currency, the euro, as well as European stocks. But the stock markets in Europe appear to have bottomed, as the main indices rallied from their lows.
Progress has been made in the last round of negotiations between Russia and Ukraine, providing another reason for European stocks to rally. So what are the best four European stocks to buy in April? Here are some names to consider: Nestle, Roche Holding, Novartis, and SAP.
Nestle
Nestle is a Swiss giant nutrition, health, and wellness company. It has a portfolio of brands that gained international recognition, and it trades at a P/E ratio of 25.88 in 2022, expected to decline to 18.43 by 2026.
Nestle pays a dividend, and the dividend yield is expected to be 3.38% by 2026 from 2.44% in 2022. In 2024, the company's revenue is estimated to exceed CHF100 billion.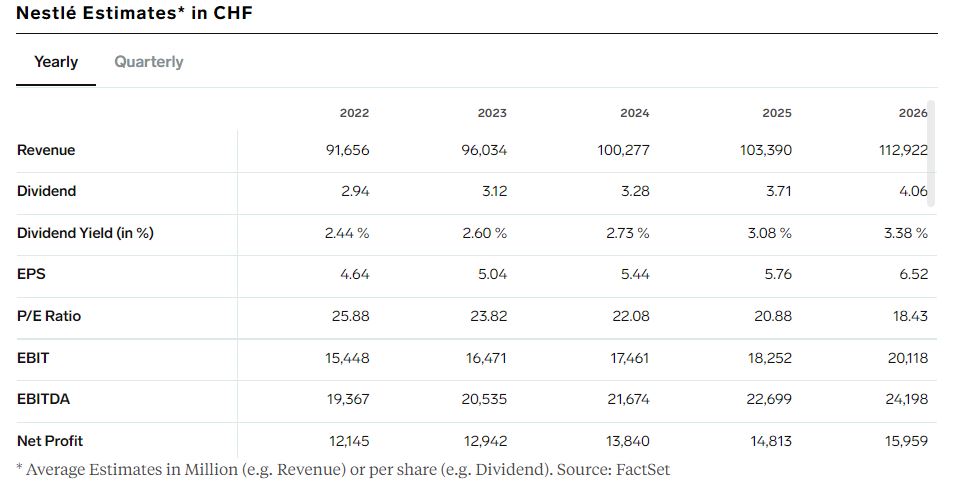 Roche Holding
Roche is another European company based in Switzerland. It is one of the biggest players in the pharmaceuticals industry, and it operates with a gross profit margin of 70.60%, higher than the sector median by 26.79%.
Roche pays an annual dividend, and the forward dividend yield is 2.47%. Also, it raised the dividend for the past 3 consecutive years.
Novartis
Novartis is active in the healthcare industry, and the stock price has traded relatively flat for the past twelve months. The company is expected to report a net profit of CHF13.7 billion in 2022, and the forecast is that it will exceed CHF15 billion by 2026.
SAP
SAP is a German IT company providing enterprise application software worldwide. SAP is expected to report EPS of EUR5.32 in 2022, and it currently trades at a P/E ratio of 18.92.
SAP is also a dividend-paying company. Like most European companies, it pays an annual dividend. The dividend yield for 2022 is 1.89%, forecast to reach 2.18% by 2026.