How to buy IBM stocks in 2022
IBM (IBM)
...
This guide tells you about International Business Machines Corporation (IBM) stock: what the company nicknamed "Big Blue" is, how to buy its shares, and why you might want to buy them based on the company's financial fundamentals and technical chart picture.
IBM is a much different company from the near-monopolistic provider of "mainframe" business computers that was challenged (and beaten) by Microsoft and Apple in the personal computer craze of the 1980s. It was knocked down, but not out, and this 110-year-old company is still very much alive and kicking.
How to Buy IBM Stocks in 5 Easy Steps
Visit eToro through the link below and sign up by entering your details in the required fields.

Provide all your personal data and fill out a basic questionnaire for informational purposes.

Click 'Deposit', choose your favourite payment method and follow the instructions to fund your account.

Search for your favourite stock and see the main stats. Once you're ready to invest, click on 'Trade'.

Enter the amount you want to invest and configure your trade to buy the stock.
Everything You Need To Know About IBM
Let's get to know IBM in terms of its long history, evolved strategy, revenue streams, and recent performance.
IBM History
IBM was founded in New York in 1911 by Charles Ranlett Flint. It was originally called the Computing-Tabulating-Recording Company (CTR) and was renamed International Business Machines by company president Thomas J. Watson in 1924. In the late 1930s, IBM's biggest customers included the US Government and even Hitler's Third Reich.
Fast-forwarding to the 1960s sees IBM involved with NASA's space program(s), its launch of the IBM System/360 computer family, and being accused — under antitrust laws — of acting like a monopoly.
IBM's $8 billion loss in 1993 was the biggest in American corporate history (at the time) and the company had to be turned around by RJR Nabisco's Lou Gerstner. Having lost out to companies like Microsoft and Apple in the personal computer space, IBM sold its own personal computer business to Chinese company Lenovo in 2005.
IBM has acquired several companies since 2015, and in 2020 it announced plans to split itself into two companies in late 2021.
What is IBM's Strategy?
In its very long history, IBM has implemented many different strategies. What matters now is that the company's focus in the future will be on high-margin cloud computing and artificial intelligence, driven by its acquisition of open-source software company Red Hat in 2019.
How Does IBM Make Money?
IBM sells a wide range of products and services in 175 countries. According to Investopedia, most revenues come from the Global Technology Services segment but the most profitable segment is Cloud & Cognitive Software.
How Has IBM Performed in Recent Years?
IBM's long-term price chart shows how its share price (blue line) more or less mirrored the S&P 500 stock index (yellow line) until it started to diverge in a much different direction in 2013, massively underperforming the index for almost the decade since. This is interesting because more modern tech titans such as Apple, Amazon, and Microsoft have largely driven — and outperformed — the same S&P index over the same period.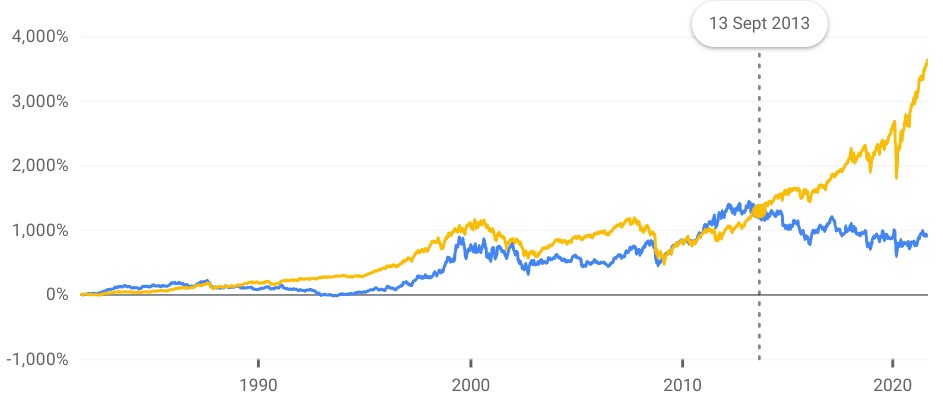 IBM vs. S&P 500 (source: Google Finance)
Some investors would construct an investment case for IBM based on the fact that this divergence could close, and some traders would buy IBM stock long while selling the S&P index short to benefit from any convergence.
Where Can You Buy IBM Stock?
IBM is listed on the New York Stock Exchange (NYSE) and the Chicago Stock Exchange (NYSE Chicago). Its stock is also listed in other, non-US, countries such as Germany. You can buy IBM stock through a stockbroker, and some online brokers also let you bet on the direction of the IBM share price via spread bets or contracts for difference (CFDs).
Most Popular
Min. Deposit
$10
Promotion
Trade/invest in stocks with just $10
Deposit with ACA, Wire, Pay with my bank
Invest for dividends and get payout on stocks on Ex-Dividend day
Pros:
Trade/invest in stocks with just $10
Deposit with ACA, Wire, Pay with my bank
Invest for dividends and get payout on stocks on Ex-Dividend day
Payment Methods
Bank Transfer, Wire Transfer
Full regulations list:
CySEC, FCA
Investoo Ltd is compensated if you access certain of the products or services offered by eToro USA LLC and/or eToro USA Securities Inc., as applicable. This compensation incentivizes Investoo Ltd to describe those products and services in favorable terms. Any testimonials contained in this communication may not be representative of the experience of other eToro customers and such testimonials are not guarantees of future performance or success.
Min. Deposit
$0
Promotion
$0 commission and $0 Options contract fees
Upgraded research with advanced charts
Smart Menus for faster trades
Pros:
$0 commission and $0 Options contract fees
Upgraded research with advanced charts
Smart Menus for faster trades
Min. Deposit
$500
Promotion
We offer one of the best execution speeds in the industry with low latency
Award-winning support in 14 languages
Trade with precision from 0.5 pips on EURUSD
Pros:
We offer one of the best execution speeds in the industry with low latency
Award-winning support in 14 languages
Trade with precision from 0.5 pips on EURUSD
Payment Methods
Bank Transfer, Bank Wire, Credit Card, Debit Card, PayPal, Sofort, neteller, skrill
CFDs are complex instruments and come with a high risk of losing money rapidly due to leverage. 68% of retail investor accounts lose money when trading CFDs with this provider. You should consider whether you understand how CFDs work and whether you can afford to take the high risk of losing your money.
IBM Fundamental Analysis
Unlike short-term traders who are more likely to use technical analysis on price chart patterns, long-term investors are more likely to employ fundamental analysis techniques to determine the financial health of a company. Here we turn our attention to fundamental analysis.
IBM's Revenue
Revenues (i.e., the amount of money a company brings in from sales) will typically appear as the top line of the company's income statement. You can also find this information on financial websites. The direct costs of producing and distributing the products that earn the revenue are deducted to arrive at the gross profit.
IBM's revenue for the four years to 2020, plus the trailing twelve months (TTM) revenue, look like this:
Source: Yahoo! Finance
IBM's Earnings-per-Share
Once all the company's costs have been deducted (including overheads) you arrive at the company's earnings, which typically appear as the bottom line of the income statement. Divide this net profit by the number of common shares outstanding to calculate the earnings per share (EPS). Again, EPS figures are published, so you don't have to calculate them:

Source: Yahoo! Finance
IBM's P/E Ratio
Now, divide the company's share price by the earnings-per-share to produce the price-earnings ratio (P/E) that tells investors how many years it would take the company to generate enough earnings to pay back their shareholdings. A lower P/E means that you paid a lower price for higher earnings, which is a good thing.
IBM's P/E ratio at the time of writing is 23.36, which (for comparison) is much lower than Tesla's 397.47 because Tesla is a "growth stock" that is expected to grow its earnings much faster than IBM in the future to justify its relatively high share price.
IBM's Dividend Yield
A company's management can choose to pay out a proportion of the annual earnings to shareholders in the form of dividends. The "dividend yield" is the amount of the annual dividend payments divided by the share price, expressed as a percentage.
At the time of writing, IBM's 4.78% dividend yield is quite attractive compared with the amount of interest you'd receive by depositing your funds in a bank account instead of investing in IBM stock. However, owning stocks is riskier than putting money in a bank account.
Not all companies pay dividends, so you have to rely on share price appreciation, and therefore sell your stockholding to make a profit. Dividend-paying stocks like IBM provide some profit income while you hold the stock, with the possibility of price appreciation on top.
IBM's Cash Flow
A final fundamental measure that investors might consider is a company's cash flow, particularly the "free cash flow" figure. A positive cash flow shows that a company's liquid assets are increasing, which means it is more likely to pay its way and even return money to shareholders. The same set of financial statements, which can be found on the company's website (in the "investor relations" section) or on financial websites, will include the cash flow figures.
IBM's free cash flow increased between 2017 and 2020.
Why Buy IBM Stocks?
With its well-known brand name and long history, IBM has some of the characteristics of the kind of stalwart stock that legendary investor Warren Buffett would buy, the only problem being that he sold his IBM shares about three years ago (in 2018) to concentrate on Apple stock instead. However, a forward dividend yield of about 4.8% at the time of writing, and a history of paying similar-size dividends, makes IBM stock look attractive compared with the much lower interest income you'd receive if you deposited your funds into a bank account instead of investing in IBM.
Expert Tip on Buying IBM Stock

"

Unlike Apple, Tesla, or other tech stocks, IBM is unlikely to change the world with disruptive technology any time soon, so this stalwart stock should probably be bought to hold based on its dividend distributions.

"
5 Things to Consider Before You Buy IBM Stock
There are at least five things you should consider before buying IBM stock or any other company stock.
1. Understand the Company
If you've read any of the books written by seasoned and successful investor Peter Lynch, you'll know that he suggests investing in companies you use yourself. If a company is popular with you, your friends, and your family, it may well be popular with other customers. However, a company you like does not automatically make a good investment, as owners of shares in their favourite football (soccer) club stocks can attest. So, take inspiration from this idea, but don't take it too far.
2. Understand the Basics of Investing
If you like the look of a company to invest in, it is also important to be able to analyse it from a fundamental financial perspective. For example, IBM stock is attractive as a dividend-paying stock regardless of whether you use the company's products or services. In addition to dividend yield, you should make yourself familiar with the other fundamental measures (such as the P/E ratio) discussed earlier. Also, don't discount the value of technical analysis — or chart reading — to help refine the timing of your stock purchases. Put simply, learn about the basics of investing.
3. Carefully Choose Your Broker
Having identified a stock to buy based on its products or services, and then backing up your investment hypothesis with technical or fundamental analysis, you then need to put your plan into action by buying shares via a broker.
Brokers are not all the same, which is why we suggest some of the best ones for you to try. We look for low fees, good customer service, and above all, regulation status. A regulated broker could offer you negative balance protection (so you can't lose more money than you ever deposited) and protection from default up to a certain level. For example, the Financial Services Compensation Scheme (FSCS) provided by the UK's Financial Conduct Authority (FCA) could protect your funds up to £85,000 per financial institution.
4. Decide How Much You Want to Invest
One of the most important aspects of investing is money management, which — in simple terms — means making sure that you don't go broke. Periods of drawdown, when the value of your investments falls before hopefully heading higher, are inevitable. Even if you think that your investment decisions will be proved right in the long run, it's well known that "the markets can remain irrational longer than you can remain solvent". It is therefore important that you never need to cash in your investments at exactly the wrong time simply because you desperately need the money.
In short, never invest money that you might need in the short term to pay your rent, your kids' college fees, or something else. Another way of saying this is "never invest money that you can't afford to lose" but beware that this can become a self-fulfilling prophecy: if you can afford to lose a lot of money, you probably will, because you'll be less careful.
Once you've decided how much you can genuinely afford to invest, the next step is to invest it wisely. This means diversifying your risk across many stocks and other assets rather than "betting the farm" on any single stock that could go bust. Alternatively, you can diversify over time by investing a small amount each month in an index fund.
5. Decide on a Goal for Your Investment
Picking up on the previous point about how much you want to invest, you should think about what you're investing for. Are you looking to tie up your funds for a long time to pay for your children's university education or your retirement, and would it therefore be a good idea (in the UK) to invest via a tax-efficient account such as an Individual Savings Account (ISA) or Self-Invested Personal Pension (SIPP)? This might not be a good idea if you'll need to get your money back sooner, or if you're looking for some speculative "quick wins" rather than steady income from dividends. Short-term speculation could be better suited to a broker's spread betting or CFD trading account.
The Bottom Line on Buying IBM Stocks
In this guide, we first told you about IBM as a company: its history, its business model, how it makes money, and how it has performed in recent years. We then turned our attention to looking at IBM as a potential stock purchase, based on financial fundamentals such as the dividend yield. We concluded by discussing some of the other things you should consider before investing; particularly, how much you can afford to invest.
For an investor who is still hesitant - and there's nothing wrong with that - we provide additional educational materials including guides on our website. After telling you how to buy other stocks, we'll tie up a few loose ends by answering some frequently asked questions.
Frequently Asked Questions
IBM is listed on two US stock exchanges: the New York Stock Exchange (NYSE) and the Chicago Stock Exchange (NYSE Chicago). You will also find IBM shares listed on other stock exchanges such as Germany's Börse Frankfurt.

IBM shares have paid dividends for many decades, at least as far back as 1962. This stock has a bank account-beating dividend yield.

One way to stop your investment in IBM stock from getting wiped out (however unlikely this may seem) is to diversify across several stocks and other assets rather than investing all your money in IBM shares.

You can apply technical analysis techniques — i.e., chart reading — to any stock, but such techniques may be better for speculators looking to benefit from big price moves of momentum stocks such as Tesla. A stalwart stock like IBM is better bought based on fundamental analysis.

When IBM developed its first personal computer (the IBM PC) in 1980, the company signed a non-exclusive contract for startup software company Microsoft to develop the MS-DOS operating system that would run on IBM's hardware. Although the "open architecture" hardware was copied by other manufacturers who produced IBM-compatible PCs, all of those PCs ran Microsoft's operating system. Thus, Microsoft made money while IBM lost market share.

Throughout the 1980s and beyond, IBM was nicknamed "Big Blue"-- maybe because of the blue tint of its monitors, or maybe because of its deep blue company logo. IBM embraced the nickname and even named its chess-playing computer "Deep Blue".