How to buy NIO stocks in 2022
NIO (NIO)
...
Nio is a Chinese automobile manufacturer that specializes in designing and producing electric vehicles. The company is headquartered in Shanghai, China, and has research centres and offices in the United States, Germany, the United Kingdom, and Norway. The China operations headquarters are based in Hefei while the Beijing office serves as its global R&D hub for software development. 
The company's shares are traded as American Depositary Receipts (ADRs) on the New York Stock Exchange (NYSE) with a ticker symbol NIO. Its stock is categorized in the Consumer Cyclical sector and Auto Manufacturers industry. The company's Chinese name Weilai — which translates into Blue Sky Coming — signifies its vision of being an environmentally friendly company that produces clean energy vehicles. 
The guide explains how you can buy NIO stock, provides detailed information about the stock, and evaluates the company on various important metrics. 
How to Buy NIO Stocks in 5 Easy Steps
Visit eToro through the link below and sign up by entering your details in the required fields.

Provide all your personal data and fill out a basic questionnaire for informational purposes.

Click 'Deposit', choose your favourite payment method and follow the instructions to fund your account.

Search for your favourite stock and see the main stats. Once you're ready to invest, click on 'Trade'.

Enter the amount you want to invest and configure your trade to buy the stock.
Everything You Need To Know About NIO
Investors should have a thorough understanding of a company's history, business strategy, revenue sources, business model, key financial metrics, and the recent performance of its stock to make informed investment decisions. The following sections provide you with vital information about the NIO's operations:
NIO History
NIO was founded in November 2014 by Chinese investor and entrepreneur William Li. In 2016, the company introduced its first "EP9" electric sports car with a price tag of £2,500,000 and a range of 427km (or 265 miles) per charge. However, the car was produced in limited quantities. The company's first mass-produced electric sports utility vehicle (SUV), the ES8, was introduced in December 2017. The ES8 is a full-size, 5-door, 7-seat electric vehicle with an aluminium alloy body. Deliveries for the SUV started in June 2018.
A 5-seater electric SUV, the ES6, was launched in December 2018, and the deliveries to customers started in June 2019. A 5-seater coupe SUV named EC6 was unveiled in December 2019, with deliveries starting from September 2020. In January 2021, the automaker introduced its first-ever electric sedan in Chengdu, China, which will compete with Tesla's Model S sedan in China. The sedan boasts an autonomous driving system called Aquila.
NIO entered the overseas market in 2021 as a batch of ES8s arrived in Norway, which will be followed by the launch of the ET7 electric Sedan in 2022.
NIO raised $1 billion in the IPO on the New York Stock Exchange in September 2018 as it issued American Depositary Receipts (ADRs) at $6.26 each.
What Is NIO's Strategy?
NIO's strategy is to introduce innovative and advanced technology in the automotive industry. The company has expertise in autonomous driving and battery swapping technologies. Its battery-as-a-service (BaaS) model allows users to recharge, swap, or upgrade their vehicles' batteries by subscribing to the service, which lowers the vehicle's purchase price while providing users with reliable battery performance and flexible upgrade options. The company operates a network of more than 170 strategically installed battery swap stations across 74 cities.
The company aims to advance its NIO Autonomous Driving (NAD) system, develop in-house capabilities, and focus on rolling out industry-leading features to its customers. According to the company, the NIO Pilot autonomous driving system has several innovative features that include navigation on the pilot (NOP), forward collision warning, blind-spot detection, automatic high beam, and rear cross-traffic alert. The NIO Pilot system contains built-in algorithms that gather data from the entire fleet and analyse the data using AI to develop new features. The company plans to offer a monthly subscription for its NIO Autonomous Driving (NAD) system in 2022.
NIO's strategy is to undertake in-house research and development activities to develop software and hardware for quickly rolling out new technologies to its customers. NOMI, the NIOs digital in-car companion, helps drivers communicate and interact with the car's various functions. The company has firmware-over-the-air (FOTA) and software-over-the-air (SOTA) capabilities that allow it to remotely install critical updates, fix bugs, and upgrade firmware.
How Does NIO Make Money?
NIO earns the majority of its revenue from the sales of its vehicles. A small portion of its revenue comes from products and services bundled together with the sale of vehicles, such as energy packages, power services solutions, power swap services, one-click-for-power services, and monthly service fees.
How Has NIO Performed in Recent Years?
The NIO ADR gained over 102% between September 14, 2020, and September 10, 2021, as it climbed from $18.73 to $37.98. It has gained around 284% since its IPO on 12 September 2018, with the highest point ($61.95) attained on January 22, 2021.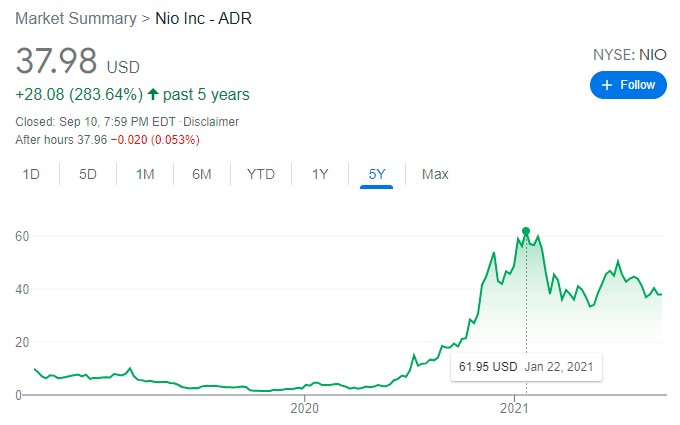 NIO ADR 3-year chart (starting from September 14, 2018): Source: Google Finance
Where Can You Buy NIO Stock?
You can buy NIO stock by opening an equity account with a stockbroker. Some brokers also offer contracts-for-difference (CFDs) or spread bets on various stocks, which allow you to buy stocks using leverage or borrowed money from your broker. However, leveraged buying of stocks involves higher risk, so you should be careful and use leverage responsibly. You can open different types of broker accounts, such as non-leveraged broker accounts, CFD accounts, margin accounts, or special-purpose investment accounts.
Most Popular
Min. Deposit
$10
Promotion
Trade/invest in stocks with just $10
Deposit with ACA, Wire, Pay with my bank
Invest for dividends and get payout on stocks on Ex-Dividend day
Pros:
Trade/invest in stocks with just $10
Deposit with ACA, Wire, Pay with my bank
Invest for dividends and get payout on stocks on Ex-Dividend day
Payment Methods
Bank Transfer, Wire Transfer
Full regulations list:
CySEC, FCA
Investoo Ltd is compensated if you access certain of the products or services offered by eToro USA LLC and/or eToro USA Securities Inc., as applicable. This compensation incentivizes Investoo Ltd to describe those products and services in favorable terms. Any testimonials contained in this communication may not be representative of the experience of other eToro customers and such testimonials are not guarantees of future performance or success.
Min. Deposit
$0
Promotion
$0 commission and $0 Options contract fees
Upgraded research with advanced charts
Smart Menus for faster trades
Pros:
$0 commission and $0 Options contract fees
Upgraded research with advanced charts
Smart Menus for faster trades
Min. Deposit
$500
Promotion
We offer one of the best execution speeds in the industry with low latency
Award-winning support in 14 languages
Trade with precision from 0.5 pips on EURUSD
Pros:
We offer one of the best execution speeds in the industry with low latency
Award-winning support in 14 languages
Trade with precision from 0.5 pips on EURUSD
Payment Methods
Bank Transfer, Bank Wire, Credit Card, Debit Card, PayPal, Sofort, neteller, skrill
CFDs are complex instruments and come with a high risk of losing money rapidly due to leverage. 68% of retail investor accounts lose money when trading CFDs with this provider. You should consider whether you understand how CFDs work and whether you can afford to take the high risk of losing your money.
NIO Fundamental Analysis
Fundamental analysis refers to analyzing the company's financials to determine the intrinsic or fair value of its stock in relation to its market price. The most common metrics investors examine are revenue, revenue growth rate, income growth rate, earnings per share, price-to-earnings ratio, dividend yield, debt to equity ratio, and free cash flow.
NIO's Revenue
Revenue denotes the monetary value of sales a company has made during a period. Healthy, all-round sustainable growth in revenue can lift the stock, while a decline in the revenue growth rate can send the stock sliding downward. You can find a company's revenue figure on the income statement issued along with other financial statements.
NIO reported revenue of RMB 8,448.0 million or USD $1,308.4 million in Q2 2021, which was 127% higher than in Q2 2020 and 5.8% higher than in Q1 2021.
NIO's Earnings-per-Share
The EPS or earning per share metric is calculated by dividing the net profit or loss by the total number of common shares outstanding, and it represents the profit or loss available for each outstanding share. For example, if a company's net profit is $100 million and the number of shares outstanding stands at 10 million, the earnings per share would be $10 per share ($100 million / 10 million). If a company reports loss, the metric will calculate loss per share and the resultant figure will be negative.
NIO Inc. reported an RMB 0.42 or US$ 0.07 net loss per ADR for the second quarter of 2021.
NIO's P/E Ratio
A company's P/E or price-to-earnings ratio is calculated by dividing the market price of its shares by the earnings per share. The ratio determines the multiples a stock trades at in comparison to the earnings available for each share. For example, if a stock is trading at $50 and the stock's EPS is $10, the P/E ratio of the stock would be calculated as 5x (five times). In other words, we can say that the stock's market price is 5 times the earnings available for each outstanding share. A stock with a higher P/E ratio in comparison to its peers is considered overvalued or expensive, and vice versa.
NIO's P/E ratio on June 30, 2021, at the end of Q2, stood at -760x, which is calculated by dividing the ADR price on 30th June ($53.2) by the loss per share of $0.07.
NIO's Dividend Yield
Companies often distribute a portion of their earnings to their shareholders in the form of cash, which is called a cash dividend. Companies can also announce additional or bonus shares as stock dividends. A company's board of directors declares the amount of dividend and decides whether to pay out the dividends or reinvest the earnings in the company.
The dividend yield is calculated by dividing the annual dividend paid by the current share price. For example, if a company paid out annual dividends of $5 per share and the current stock price is $50, the dividend yield would turn out to be 10%. Investing in high dividend yield stocks can earn investors a higher return on their investments in addition to any upside gains.
NIO is a growing company and is yet to make a profit, so it has not yet paid out any dividends.
NIO's Cash Flow
A company's cash flow statement gives you an idea about the inflows and outflows of cash. It also shows the amount of cash and cash equivalents a company holds at any specific time. The cash flow statement is divided into three parts: cash flows from operating activities, cash flows from investing activities, cash flows from financing activities. A company with high cash inflows can use the cash for expansion activities and other profitable ventures without incurring financing costs by borrowing money.
As of June 30, 2021, NIO Inc. had cash and cash equivalents of RMB48.3 billion or US$7.5 billion.
Why Buy NIO Stock?
NIO Inc. is a high-growth company involved in the capital-intensive electric vehicle business. The company has already launched several successful products and has grabbed around 20% of the all-electric SUV market in China. Here are three reasons to buy and hold NIO stock:
NIO Inc. has been developing new electric vehicles, and sales are growing at a rapid pace. The company doubled its EV sales in June 2021 as it delivered over 8,000 vehicles of various models. The company plans to launch three new EVs in 2022, which can give it a chance to increase its revenue as it would target different types of customers with its new offerings.
NIO Inc. has entered the European market by launching the ES8 electric SUV in Norway, with plans of launching the ET7 sedan in Germany in 2022, which can help acquire market share in the European market as well.
The company's stock has had an explosive run since its IPO, which shows that investors are upbeat about the company's future even though the company is yet to achieve profitability.
Expert Tip on Buying NIO Stock

"

Competition in the EV space is stiff and it won't be a smooth ride for any player to easily capture the market share, so we suggest keeping yourself updated about the latest developments in the industry. Because the EV industry is in the growth stage, valuations can be expensive, so it makes sense to pay attention to the fundamentals.

"
5 Things to Consider Before You Buy NIO Stock
You need to consider the following important points before buying NIO stock:
1. Understand the Company
You need to understand the company's business model, strategy, competitive environment, strengths, weaknesses, opportunities, threats, and financial metrics to properly assess its prospects. Having a thorough understanding of the company will help you to enter the market or liquidate your position at the right time(s), to earn higher returns on your investment.
2. Understand the Basics of Investing
Understanding the basics of investing will equip you with the necessary tools to make low-risk investments while giving you a chance to generate higher returns. You need to understand the concept of creating a diversified portfolio — a collection of uncorrelated stocks — that will reduce your overall portfolio risk. A well-diversified portfolio of stocks will ensure that even if a stock performs poorly, your overall portfolio is not affected and your risk is reduced.
Similarly, if you are into short-term trading, you should always employ risk management techniques and apply a stop loss to cap your downside risk. You should calculate your position size in such a way that you don't risk more than 1% to 2% of your account on each trade.
3. Carefully Choose Your Broker
Even with the right trading skills, you can still struggle to achieve success if the services of your broker are not up to the mark. You should choose a broker that:
Offers you access to an advanced online trading platform with plenty of technical indicators.
Lets you trade on smartphones, laptops, or tablets across all operating systems.
Charges low trading and commissions, which will lower your trading costs.
Allows you to employ risk management techniques through placing different types of orders.
Is regulated by the local regulatory authorities so that the risk of getting defrauded is eliminated.
4. Decide How Much You Want to Invest
The amount of money you invest should depend on your investment objective, risk tolerance, investment horizon, and capital. If you are in your twenties and want to save for your retirement, you can allocate a major portion of your funds in stocks as you can generate higher returns by assuming higher risk because of your long-term investment horizon. However, if you are closer to your retirement, you would have a low risk tolerance as you'd want to generate stable returns while preserving your capital.
You should follow the basic principle of investing: do not put all your eggs in one basket. Do not invest all of your money in a single stock no matter how lucrative the opportunity sounds. Investing all your money in a single investment avenue can give you higher returns but at a cost of assuming a higher risk of losing money.
5. Decide on a Goal for Your Investment
Stating a firm investment goal allows you to set your investment strategy accordingly. An aggressive goal of achieving a 50% return on your investment would involve taking on higher risks whereas aiming for a more modest return of 10% would require a comparatively low-risk trading strategy. The key is to set up realistic goals that could be achieved by assuming low risk.
The Bottom Line on Buying NIO Stock
NIO Inc. has quickly become one of the prominent players in the electric vehicle market due to its recent successes in developing popular SUVs and sedans. The company intends to generate additional revenues from its battery-as-a-service (BaaS) model, autonomous driving systems, and other subscription fees. The company plans to launch in five countries in Europe in 2021, starting with Norway where it has already introduced its ES8s SUVs. The company is already faring well in China as it achieved record sales of over 8,000 units in the single month of June 2021. The company has bright prospects as there is plenty of room for growth in the EV industry.
If you want to buy NIO ADRs, you should open an account with a stockbroker. You will have to submit an online form and upload your identification documents, such as proof of residence and your ID card, on the broker's website. After verification of your documents, your account will most likely be created in three business days, if there is no discrepancy in your documents. You can then fund your account using any of the popular funding methods: Paypal, credit or debit cards, e-wallets, and wire transfers.
If you want to explore other interesting stocks, you can read our other pieces on different stocks on our website. We have covered different stocks for you to make your investment decision easier.
Frequently Asked Questions
NIO Inc. is a growing Chinese company, and many analysts have termed it the "Tesla of China". The company's recent models have been very popular among customers, and the company is expanding to new markets thanks to its research centres and offices in different locations across the world. While there are other EV stocks in the industry, NIO holds a unique position.

NIO primarily earns its revenue by selling electric vehicles. The secondary sources of revenue include earning from battery swap services that are sold as subscriptions, electric recharge stations, and mobile charging services. The company also plans to sell subscriptions for its autonomous driving system.

NIO has not paid any dividends yet since its inception as it hasn't become profitable.

By holding NIO stock for the long term, you are essentially betting on its prospects as a company with a viable business model. During the first three years since its IPO, the stock generated over 280% cumulative return, which means that if you had invested $1,000 in its IPO and held its stock for three years, your investment would have grown to $3,800. The EV industry has plenty of room for growth, so you can consider investing in an EV stock, such as NIO to generate high returns.

There is tough competition in the EV industry with many exciting players. Also, the valuation of NIO is high as it is trading at 760 times its earnings/loss per share. The company is yet to generate profit after almost seven years of its operations. Nevertheless, the company seems to be an exciting prospect as there are plenty of positives as well that are keeping its investors and customers interested in the company.

NIO's American Depositary Receipts (ADRs) are traded on the New York Stock Exchange with a ticker symbol of NIO.