How to buy NVIDIA stocks in 2022
NVIDIA (NVDA)
...
NVIDIA is an American company that designs and manufactures computer graphics processors. Mainly known as a "chip-maker," it is one of the leading companies in the semiconductors industry.
Besides the chip-making business, it does offer data centre platforms and systems for AI (Artificial Intelligence) and networking and interconnect solutions, among others. In short, it operates as a visual computing company and has worldwide operations.
Based in Santa Clara, California, NVIDIA is one of the leading American tech companies, a worldwide industry leader. Investors in NVIDIA stock want to get exposure to the technology sector, one with great potential as the world progresses towards all-digital solutions advances at a fast pace.
How to Buy NVDA Stocks in 5 Easy Steps
Visit eToro through the link below and sign up by entering your details in the required fields.

Provide all your personal data and fill out a basic questionnaire for informational purposes.

Click 'Deposit', choose your favourite payment method and follow the instructions to fund your account.

Search for your favourite stock and see the main stats. Once you're ready to invest, click on 'Trade'.

Enter the amount you want to invest and configure your trade to buy the stock.
Everything You Need To Know About NVIDIA
Let's dive in and learn more about NVIDIA's history, strategy, how it makes money and how it performed in recent years.
NVIDIA History
The company was founded in 1993, and it operates in two segments. It is best known to the public for its graphics segment, responsible for the GeForce GPUs used for gaming and PC. Besides graphics, the company is involved in computing & networking, where it offers systems for AI, develops autonomous driving development agreements, and autonomous vehicles solutions, among others.
NVIDIA's founders (Jensen Juang, Chris Malachowsky, and Curtis Priem) started the company with the premise that the PC would become a consumer device. Their bet paid off as NVIDIA became the first Microsoft DIRECTX drivers provider.
In 1999, the company was listed on Nasdaq at $12/share and now trades at almost 20 times more. It recently announced a partnership with Google Cloud to create AI-on-5G Lab, as the 5G technology spreads worldwide.
What Is NVIDIA's Strategy?
NVIDIA is a company that innovates a lot and invests in new technologies. The company is the first to invent the graphics processing unit, or the GPU, shaping the entire industry's future. It is now expanding its business in areas such as 5G while innovating in the GPU segment.
How Does NVIDIA Make Money?
The company makes and distributes GPUs or chips used for gaming and PCs. Besides that, it expanded its activities to cover other related areas such as AI or 5G.
NVIDIA sells its products and services to computer manufacturers, automotive manufacturers, mapping companies, internet and cloud services providers, to name just a few. The company employs close to 19,000 people.
How Has NVIDIA Performed in Recent Years?
NVIDIA stock price trades close to its record-highs, and it outperformed the market in the past years. This is because the technology sector was the first to recover from the pandemic-led recession as consumers had to adapt to new trends such as remote working. Households invested in new computers and software, and NVIDIA was there to deliver the right products and solutions to its business partners.
Moreover, following the gradual economic reopening after extensive lockdowns, the world found out that supply bottlenecks affect the supply chain. As a result, a shortage in the chip-making industry led to higher prices for most of NVIDIA products, further fueling its financial and stock market performance.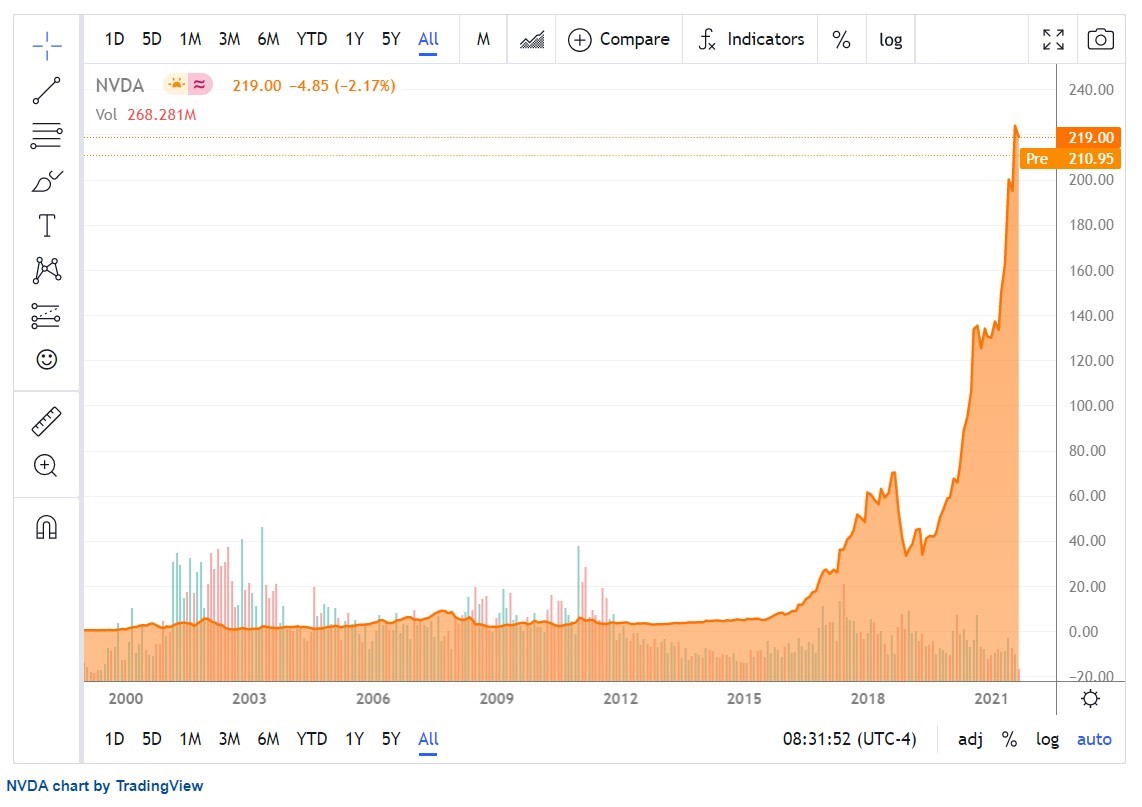 Where Can You Buy NVIDIA Stock?
An investor can buy NVIDIA stock from a regular stockbroker, as the company is publicly listed. Moreover, some brokers offer the possibility to trade NVIDIA stock via a CFD or contract for difference. A CFD tracks the performance of the underlying asset (i.e., NVIDIA stock), and one of its main benefits is that it makes it easier to short the market. Some brokers offer shares and CFDs on the same stock.
Most Popular
Min. Deposit
$10
Promotion
Trade/invest in stocks with just $10
Deposit with ACA, Wire, Pay with my bank
Invest for dividends and get payout on stocks on Ex-Dividend day
Pros:
Trade/invest in stocks with just $10
Deposit with ACA, Wire, Pay with my bank
Invest for dividends and get payout on stocks on Ex-Dividend day
Payment Methods
Bank Transfer, Wire Transfer
Full regulations list:
CySEC, FCA
Investoo Ltd is compensated if you access certain of the products or services offered by eToro USA LLC and/or eToro USA Securities Inc., as applicable. This compensation incentivizes Investoo Ltd to describe those products and services in favorable terms. Any testimonials contained in this communication may not be representative of the experience of other eToro customers and such testimonials are not guarantees of future performance or success.
Min. Deposit
$0
Promotion
$0 commission and $0 Options contract fees
Upgraded research with advanced charts
Smart Menus for faster trades
Pros:
$0 commission and $0 Options contract fees
Upgraded research with advanced charts
Smart Menus for faster trades
Min. Deposit
$500
Promotion
We offer one of the best execution speeds in the industry with low latency
Award-winning support in 14 languages
Trade with precision from 0.5 pips on EURUSD
Pros:
We offer one of the best execution speeds in the industry with low latency
Award-winning support in 14 languages
Trade with precision from 0.5 pips on EURUSD
Payment Methods
Bank Transfer, Bank Wire, Credit Card, Debit Card, PayPal, Sofort, neteller, skrill
CFDs are complex instruments and come with a high risk of losing money rapidly due to leverage. 68% of retail investor accounts lose money when trading CFDs with this provider. You should consider whether you understand how CFDs work and whether you can afford to take the high risk of losing your money.
NVIDIA Fundamental Analysis
Fundamental analysis is essential in valuing a company. The following sections will focus on NVIDIA's revenue, earnings-per-share, the price/earnings ratio, its dividend yield, and the cash flow position.
NVIDIA's Revenue
A company's revenue position shows how much it sold over a period. The revenue is reported on the income statement, and revenue projections help investors value the company's share price in relation to the future cash flows.
In the case of NVIDIA, the revenue expectations for this year are over $16 billion, expected to triple in the next five years. But, of course, these are just estimates, and more accurate info can be found by reading the quarterly earnings report and by following the management's forward guidance.

NVIDIA's Earnings-per-Share
As the name suggests, earnings-per-share or EPS show the net profit the company made per one share. The bigger the number, the better the stock price, and investors would be better off by knowing the market's estimates for the quarterly EPS. Even if a company manages to make a profit, if the market was braced for a higher estimate and the actual data misses expectations, the stock price will adjust immediately.
NVIDIA's EPS are estimated to reach $2.43 by the end of 2021 and gradually rise – more than double by 2024 and more than triple by 2026.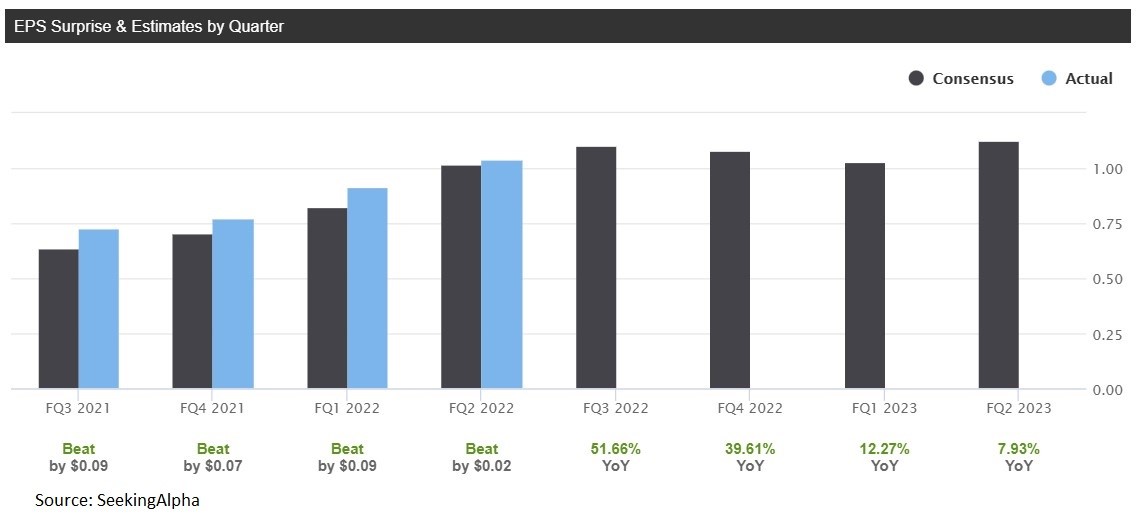 NVIDIA's P/E Ratio
The P/E ratio or the price/earnings ratio shows how much investors are willing to pay today for one dollar that the company generates in profit. As the name of the ratio suggests, the P/E ratio divides the current market price of one share by the earnings per share.
If the earnings are annualised, then by dividing the two, investors have an idea about how long it will take for the company to pay back the investment at the current market price. For example, NVIDIA trades in 2021 at the P/E ratio of 90.85, meaning that it will take the company over 90 years to earn enough money to pay back your investment.
The higher the P/E ratio, the more unattractive the company is. However, some investors are willing to pay higher prices if the discounted future cash flows indicate an intrinsic value for the company's share price bigger than the current market price. For example, NVIDIA's P/E ratio is expected to drop to just 28.5 in 2026, much lower than the current value.
NVIDIA's Dividend Yield
Dividends are one way of rewarding a company's investors. NVIDIA is a dividend-paying company with a dividend payout ratio of 3.84% and a dividend yield of 0.07%.
The dividend yield shows the percentage of the company's share price that it pays each year. Therefore, it can decline on a sharp increase in its price if the company does not increase its dividend. NVIDIA has increased its dividend by 6.83% in the last five years.
NVIDIA's Cash Flow
Another fundamental metric investors like to focus on is the free cash flow position. The free cash flow shows how much is left after paying all costs of staying in business.
A significant free cash flow position is desirable than a poor one, as the company can finance its expansion into new markets, fund its research and developments projects, employ more people to grow the business, and so on. NVIDIA's free cash flow position in 2021 is forecasted at $4.597 billion, expected to reach $10.22 by the end of 2025.
Why Buy NVIDIA Stocks?
NVIDIA is riding the technology wave as one of the leaders in its industry. It was one of the first names to see its stock price recover from the COVID-19 pandemic decline and one that also benefited from the economic reopening.
Here are a few reasons to consider why it may be opportune to buy NVIDIA stock:
The COVID-19 pandemic led to a shift in consumer behaviour. Technology companies led the way up as new trends emerged, showing that digitalisation is the path forward.
Strong free cash flow position.
The company operates with a gross profit margin of 63.76%, bigger than the 49.04% sector median.
Expert Tip on Buying NVIDIA Stock

"

NVIDIA's stock price increased significantly in the last five years, but the industry trends suggest more growth is likely. It is never a mistake to buy on market strength, and such investors may focus on getting exposure to NVIDIA stock as long as the price keeps making higher highs and higher lows, a series that typically forms in rising markets.

"
5 Things to Consider Before Buying NVIDIA Stock
Before deciding to invest in any company, it is wise to do some due diligence to understand the business and the investing process better.
Understand the Company
The starting point is to understand what the company does and how it is making money. Profitability is essential, but so is the present and the future cash flow position, the dividend-paying policy, the industry trends, etc. Fundamental analysis helps in providing a better picture of the company's business model and offers a base for comparing the financial performance with its peers. This way, investors may compare two or more companies and decide if it is worth paying the market price for one stock.
Understand the Basics of Investing
Investors do not need advanced know-how, but it does help to understand the basics of investing. Things like free cash flow, price/earnings ratio, types of orders to use when trading, and how to calculate a margin call are just a few ones that help in the investing process.
Carefully Choose Your Broker
Investors choose a broker for various reasons. Depending on the strategy used, one broker may be more suitable than another. For example, investors might want to check the spreads offered, the types of orders that one may use, if short-selling is allowed and at what cost, what are the broker's commissions, what are the conditions for a margin call, and how long it takes for the funds to be deposited or withdrawn.
Decide How Much You Want to Invest
The next step in the investing process is to decide how much you want to invest. To start with, no one should invest the money they can't afford to lose. To continue, after funding a trading account, it is wise to spread the investments over multiple markets, segments, and industries to obtain diversification benefits and avoid having large exposure to any one company. Borrowing money to buy a stock is not wise because leverage can go against you. While leverage amplifies gains, it also leads to losses as the trading account is more vulnerable to any minor market pullback.
Decide on a Goal for Your Investment
Finally, why do you want to invest? What is the purpose of investing in the stock market? Is it the desire to own a piece in a profitable company or just the fact that you like the products or services? Is it long-term or short-term investing? Setting goals means planning, and planning leads to an improved money management system.
The Bottom Line on Buying NVIDIA Stocks
NVIDIA is an innovative company in the semiconductors industry. It operates with a gross profit margin bigger than the sector median, and it is a visual computing company.
Investors willing to buy NVIDIA stocks may want to pick the desired stockbroker, open an account, search for the NVIDIA stock and place an order. Trading may be done at the market price or at a predefined future level. In the latter case, pending orders help to instruct the broker when to execute the order.
Investors who are not ready yet may choose to read other educational materials on our website before dedicating real funds to the stock market. Also, opening a demo account with the broker helps identify the markets available to trade, the trading platform's features, and how the broker executes the orders.
Frequently Asked Questions
Yes. To do so, make sure you use some of the orders available in the trading platform provided by the stockbroker. For example, if the price of one NVIDIA share advances to $250 and you already own it since it traded at $200, you may want to protect some of the profits. To do so, you may want to use a stop-loss order and set it above the entry price, say $225. This way, if the stock price declines to $225, the broker will get you out of the position while your account still booked partial profits. Ideally, you should set the stop-loss order to such a level that is not reached by any minor pullback and, if reached, to still make a profit.

NVIDIA is listed in the United States, and American companies that choose to pay a dividend do it every quarter. This is a big difference between American and European companies, as the latter usually pay a dividend just once a year. Many investors choose to reinvest their dividends, meaning that they are willing to let their earnings compound further. If this is what you're after, too, then a quarterly dividend is better than one paid only once a year.

All investments have a certain degree of risk. The stock market prices can move up or down, and buying NVIDIA stocks does not guarantee that the price may continue its upside. The investing strategy is important too. Some traders buy stock on margin, wanting to participate more in the rise of a stock. Trading on margin is riskier as leverage also amplifies losses, not only winnings. To better manage the risk, traders may want to invest only a certain percentage of the trading account in any given stock and to spread the risk by diversifying the investment over multiple industries and companies.

It would not be the first time. Investors checking history prices and economic recessions may remember the tech bubble in the late 1990s when internet stocks collapsed. While the bubble led to declining stock market prices, the stocks recovered from their lows as the technology sector proved resilient. Whether it is in a bubble should not matter – as long as traders use protective orders to safeguard their investments.

There are several ways to do so. First, make sure you always use stop-loss orders and update them regularly with the stock market movement; you may also opt for a trailing stop-loss order that automatically updates according to the price changes. Second, make sure you trade with a regulated broker that segregates the customers' funds from the funds needed to run the business. This way, should anything happen with the brokerage business, the regulator intervenes to protect the customer. Third, look for brokers that offer negative balance protection.

NVIDIA stock price was on a tear higher in the last years, but it does not mean that the bullish run will stop anytime soon. Neither does it mean that the market cannot drop. One thing to consider is the bull/bear line. It is said that a market enters the bear market if it corrects more than 25% from the highs. As long as there is no such correction, the bias remains bullish, so new all-time highs are not only possible but likely.