How to buy Swiss Life stocks in 2022
Swiss Life (SWSDF)
...
Swiss Life is the largest provider of life insurance in Switzerland. The company was founded in 1857 as Rentenanstalt but changed its name to Swiss Life in 2004. One of Europe's leading comprehensive insurance providers, Swiss Life offers a range of life, pension, annuity, and health insurances to individual and institutional clients.
The company also provides disability coverage, as well as accident and health, liability and motor, and payment protection insurance. It became a publicly-traded company in 1997 and was listed on the Swiss Stock Exchange. The stock is one of the 20 components of the Swiss Market Index (SLHN). This guide tells you how to buy Swiss Life stock, and why you might want to, taking various technical and fundamental analysis factors into account.
5 Steps to Buy Cryptocurrency Instantly!
Visit our recommended platform to buy crypto by clicking the button below.

Enter your details in the required fields to create a new account.

Fund your account using your preferred payment method and confirm your new balance.

Choose your favourite crypto coin and select a "Instant/Market Order" to buy it instantly.

Enter the amount you want to buy (you'll see the equivalent in crypto) and confirm your order!
Everything You Need To Know About Swiss Life
At this stage, let's take a deeper look at Swiss Life and explore its history, business strategy, revenue generation methods, and share price performance in recent years.
Swiss Life History
The Rentenanstalt cooperative was founded in 1857 by Conrad Widmer. It was the first life insurance company in Switzerland, backed by guarantees from Credit Suisse Group AG. The early development of the cooperative was influenced by Alfred Escher, a prominent Zurich politician who desired Swiss families to have insurance against the uncertainties of life.
The Rentenanstalt cooperative obtained a license to operate in Prussia in 1866, and a year later, it opened for business in Hamburg and Bremen. From there, the company grew by opening branch offices and subsidiaries and also acquiring financial services and pension providers. Between 1866 and 1987, Rentenanstalt expanded to Belgium, Luxembourg, France, Italy, the Netherlands, the United Kingdom, and Spain.
In 1988, the company acquired La Suisse insurance company of Lausanne, and in 1997, Rentenanstalt became a public limited company, with its shares floated on the SMI. The company changed its name to Swiss Life in 2004.
What Is Swiss Life's Strategy?
Swiss Life provides life insurance, risk, pensions, and financial solutions (including asset management) for private and corporate clients in Switzerland and other parts of Europe. The company also manages assets, undertakes reinsurance businesses, and provides advisory services for institutional clients.
Swiss Life concentrates on four strategic directions: focusing on preferred segments, promoting attractive offers, improving customer relations, and increasing productivity. To achieve these, the company distributes its products through its agents, financial advisors, and distribution partners. It operates in Switzerland and internationally under the Swiss Life Select, Horbach, Chase de Vere, Proventus, Fincentrum, and Tecis advisors brands.
How Does Swiss Life Make Money?
As with any insurance company, Swiss Life makes money from the premiums it charges for insurance coverage. Also, its asset management segment makes money from the management fees it charges for its services. The company then reinvests those premiums and management fees into other interest-generating assets. Minimising marketing and administrative costs helps the company to maximise its earnings.
How Has Swiss Life Performed in Recent Years?
The stock has performed relatively well in recent years. In the last five years to 2021, the stock more than doubled its price from CHF 243 (Swiss franc) during the third week of September 2016 to its all-time high of CHF 518 in February 2020 before crashing below CHF 300 in March 2020 following the emergence of the coronavirus pandemic.
Since then, the stock has been in a recovery mood. However, it has not reached the pre-pandemic high. As of September 18, 2021, the stock closed at CHF 476.1. See the chart below: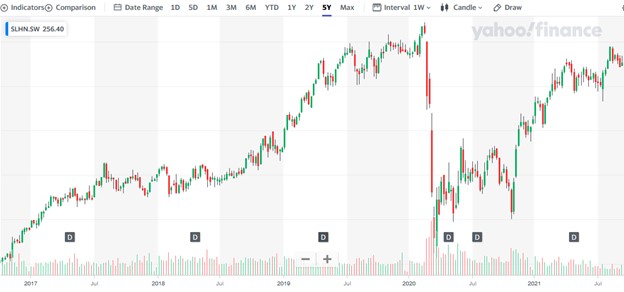 Source: Yahoo! Finance
Where Can You Buy Swiss Life Stock?
Since Swiss Life stock trades on the Swiss Stock Exchange, you buy it through a stockbroker that has access to that exchange. This can be a Swiss-based stockbroker or any of the major international brokers that have access to different major stock exchanges around the world.
Some of these brokers offer just the standard trading accounts, but some also offer tax-efficient retirement fund accounts, such as the shares ISA and SIPP accounts in the UK. You may also be able to buy Swiss Life DR from any of the major banks in your country that has a share dealing arm.
It's important to note that, while buying shares from a stockbroker offers you ownership of those shares, trading shares via a spread betting or CFD trading platform does not; it is just speculating on the price direction. However, some major CFD platforms also allow you to buy real stocks.
Most Popular
Min. Deposit
$10
Promotion
Trade/invest in stocks with just $10
Deposit with ACA, Wire, Pay with my bank
Invest for dividends and get payout on stocks on Ex-Dividend day
Pros:
Trade/invest in stocks with just $10
Deposit with ACA, Wire, Pay with my bank
Invest for dividends and get payout on stocks on Ex-Dividend day
Payment Methods
Bank Transfer, Wire Transfer
Full regulations list:
CySEC, FCA
Investoo Ltd is compensated if you access certain of the products or services offered by eToro USA LLC and/or eToro USA Securities Inc., as applicable. This compensation incentivizes Investoo Ltd to describe those products and services in favorable terms. Any testimonials contained in this communication may not be representative of the experience of other eToro customers and such testimonials are not guarantees of future performance or success.
Min. Deposit
$0
Promotion
$0 commission and $0 Options contract fees
Upgraded research with advanced charts
Smart Menus for faster trades
Pros:
$0 commission and $0 Options contract fees
Upgraded research with advanced charts
Smart Menus for faster trades
Min. Deposit
$500
Promotion
We offer one of the best execution speeds in the industry with low latency
Award-winning support in 14 languages
Trade with precision from 0.5 pips on EURUSD
Pros:
We offer one of the best execution speeds in the industry with low latency
Award-winning support in 14 languages
Trade with precision from 0.5 pips on EURUSD
Payment Methods
Bank Transfer, Bank Wire, Credit Card, Debit Card, PayPal, Sofort, neteller, skrill
CFDs are complex instruments and come with a high risk of losing money rapidly due to leverage. 68% of retail investor accounts lose money when trading CFDs with this provider. You should consider whether you understand how CFDs work and whether you can afford to take the high risk of losing your money.
Swiss Life Fundamental Analysis
Fundamental analysis is a method of evaluating a stock by studying the company's business to know its financial health and intrinsic value. There are many factors investors consider when evaluating a stock using fundamental analysis.
Some of those factors are not measurable — for example, corporate management and goodwill. We won't consider them in this guide. Our focus is on measurable financial metrics, such as the company's revenue, earnings-per-share, P/E ratio, dividend yield, and cash flow.
Swiss Life's Revenue
Revenue is the amount of money a company generates from selling its products or services before the costs of sales and other expenses are subtracted to get the profits. You see it at the top of the income statement, which is why it's often referred to as the top line.
Companies that achieve year-on-year revenue growth tend to appeal to investors. Unfortunately, Swiss Life's revenue for its 2020 fiscal year, which ended December 30, 2020, declined by 11.9% to CHF 21.7 billion compared to the 2019 fiscal year's revenue of CHF 24.3 billion. However, this can be attributed to the impact of the coronavirus pandemic.

Source: Yahoo! Finance
Swiss Life's Earnings-per-Share
Earnings are the profits a company makes after deducting all costs of doing business from its revenue for the accounting period. But, the earnings per share (EPS) is more important to you as an investor because it considers the earnings attributable to each share of the company.
You can calculate Swiss Life's EPS by dividing the company's total earnings by the total number of outstanding shares of its common stock. But you don't have to, since you can get it from your stockbrokers' website or any of the major financial websites. As of this writing, the EPS is 32.78 - this can be then compared against any competitors to find out if this company suits your investment needs.
Swiss Life's P/E Ratio
The price-earnings (P/E) ratio is a financial ratio that compares the company's share price to its earnings-per-share. While you calculate it by dividing the company's current share price by its annual EPS, you don't need to, because the information is already on financial websites.
Generally, when a stock has a very high P/E ratio, it is considered overvalued. Likewise, a stock with a low ratio is considered undervalued. But in some cases, investors may be anticipating higher earnings in the future and would continue to price the shares higher.
As of this writing, Swiss Life's P/E ratio is 12.62; for comparison, the P/E ratio of S&P 500 is 31.25, which means that the overall stock market may have higher growth compared to Swiss Life. Yet, the company may seem attractive for value investors.
Swiss Life's Dividend Yield
Some companies distribute dividends to their shareholders quarterly, semi-annually, or annually. Generally, when a company declares dividends, the company's share price rises. The reason is that investors try to get their names in the company's record to qualify for the dividends. After the ex-dividend date, the stock begins to fall as buying pressure declines.
When a company's total annual dividends are expressed as a percentage of its share price, the metric is referred to as dividend yield. For instance, if a company pays out a total dividend of $1.50 for the year when its share price is $30, its dividend yield would be 5%. To know whether investing in the stock makes more sense than keeping your money in the bank, compare the yield with the prevailing interest rate. Swiss Life has been paying yearly dividends since 1997. The latest dividend yield as of this writing is 4.59%.
Swiss Life's Cash Flow
The cash flow statement is a record of how a company generates and spends cash and cash equivalents. It is one of the three financial statements you can use to analyse a company. You can see the cash flow statement beside the other financial statements in the financials section of the company's information on your broker's website or financial websites like Yahoo Finance.
The most important figure is perhaps the free cash flow, which shows the amount of cash or its equivalents the company has left after taking care of major expenses, such as building, equipment, and other bills. It is the free cash that the company can use to pay dividends, pay down debts, or fund expansion.
From Swiss Life's cash flow statement below, you can see that the company had about $3.6 billion in free cash at the end of the 2020 fiscal year.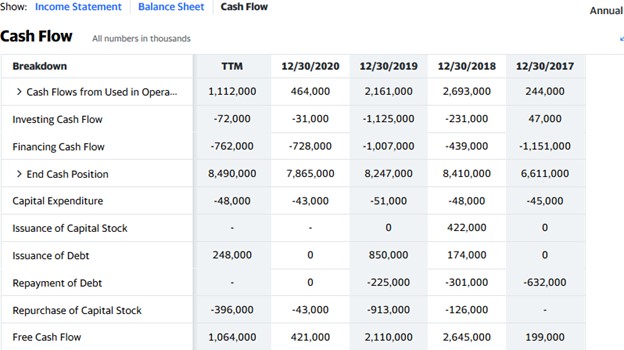 Source: Yahoo! Finance
Why Buy Swiss Life Stocks?
Swiss Life is the largest life insurance provider in Switzerland and one of the largest in Europe. The company has been in the business for more than a century, with a track record of success. Swiss Life is one of the most innovative insurance providers, offering multiple products both in Switzerland and abroad.
There are many reasons to invest in Swiss Life stock, but let's highlight the top three:
The company has a long history of paying dividends.
It has been around and thriving for more than a century.
The company is well managed, always adapting to the changing situations around it.
Expert Tip on Buying Swiss Life Stock

"

You invest in this stock to gain from both capital appreciation and dividends. While you can buy the stock when it is gaining momentum, it may be preferable to buy on a dip so as to get it at a cheaper price. You can use a limit order to get filled at the price you want or a better one.

"
5 Things to Consider Before You Buy Swiss Life Stock
These are five things you need to consider before buying any stock, including Swiss Life:
1. Understand the Company
It is important to understand the company you want to invest in before you put your money into it. Find out what the company does and how it makes money. Even if it's a company whose products or services you use, you still have to perform your fundamental analysis to be sure of the company's financial health before investing. For instance, you may be using Swiss Life's insurance products, but that is not enough reason to invest in it; you must study the company's fundamentals first.
2. Understand the Basics of Investing
Make sure you learn the basics of investing before putting your money on any stock. You should learn things like risk management, position-sizing, and diversification. Your risk management strategies, along with position sizing, will enable you to limit your losses to a certain amount. Diversification, on the other hand, is a way to spread your risk across several stocks and other assets.
3. Carefully Choose Your Broker
There are many factors to consider when choosing a broker, but the first one is the broker's regulation status in your country of residence. Choose a broker that is registered with the financial services regulator in your country of residence.
Moreover, in the event of the broker's insolvency, you can get some form of protection from any financial compensation scheme in your country. Other factors to consider include trading commissions, payment methods, trading platforms, and the customer support service.
4. Decide How Much You Want to Invest
Be sure to use your disposal income. You can save up if you have to, but never use the money you need to pay your bills. Also, do not invest with borrowed funds to avoid losing your shirt - leverage or margin accounts can be extremely risky, so they are only recommended to experienced investors. When you have your capital and are ready to invest, specify the percentage of that capital you will allocate to one stock at a time.
Next, plan how you want to invest the money. While you can invest a lump sum at once, it may be preferable to scale in gradually and practice dollar-cost-averaging. Be sure to spread your capital across different stocks and even different asset classes to avoid systemic risk.
5. Decide on a Goal for Your Investment
Now, it's time to consider your investment goal: why are you investing and how long do you intend to hold your investment? You may want to build your pension fund for retirement or plan for a future project.
Also, you should have a plan for cashing out your investment. When do you plan to sell? Is it when the price reaches a specific price in the future or when the company's fundamentals no longer look good? Note, you can also hold the stock indefinitely.
The Bottom Line on Buying Swiss Life Stocks
Swiss Life is the largest provider of life insurance in Switzerland and one of the leading providers in Europe. The stock offers the opportunity to earn from both capital gain and regular dividends, and you can buy it through a broker that has access to the Swiss Stock Exchange.
To invest in Swiss Life stock right now, sign up for a stockbroker's stock trading account, fund your account, select Swiss Life from its categorised list of stocks, and place an order to buy the stock.
But if you're not yet ready to invest right now, keep educating yourself by reading other guides on our website until you are ready to invest. You may practice "paper trading" to understand how the market works and learn how to use the broker's platform.
Frequently Asked Questions
Life insurance is a contract between an insurance company and a policyholder, which entitles the holder's designated beneficiary to a certain amount of money upon the death of the policyholder or other events, such as terminal illness or critical illness. In other words, the insurance company guarantees to pay the designated beneficiary a sum of money if the insured person dies or develops a critical illness.

Goodwill is an intangible asset that can be attributed to the value of a company's brand name, loyal customer base, talented workforce, good customer relations, and proprietary technology. The concept of goodwill is mostly considered during acquisitions as the buying company tries to know the premium to pay over the fair market value of the acquired company's net assets.

The ex-dividend date is the date a company draws the line on who can receive the declared dividends. It is usually set one business day before the record date, which is the day the company takes a record of those qualified for the dividends. If you purchase after the ex-dividend date, the dividend goes to the seller.

The balance sheet is a summary of the assets, liabilities, and capital of a company at a particular point in time. It details the balance of assets and liabilities of that company as at the time it was compiled. The balance sheet is one of the three financial statements you can use to evaluate a company.

Yes, it may be necessary. But it should not substitute for your fundamental analysis. While technical analysis can tell you the right time to buy the stock, fundamental analysis tells you whether the company is in good financial health. Also, technical analysis is often employed by short-term traders, while fundamental analysis is commonly used to identify long-term opportunities.

It's simple: invest only what you can afford to lose. Experts advise that you commit only a small percentage of your investing capital to one stock at a time. Also, place a stop-loss order that would get you out of the market if the market goes against your position up to a certain level. You should also build a diversified portfolio.