How to buy Unilever stocks in 2022
Unilever (UL)
...
Unilever is a British multinational company that produces and distributes consumer goods, such as food, home care, personal care, and beauty products. Although the company is headquartered in London, the UK, its products are available in around 190 countries. Over 2.5 billion people across the world use Unilever products every day.
The stock is primarily listed on the London Stock Exchange (LSE) and is one of the components of the FTSE 100 Index. This guide tells you how you can confidently buy Unilever stock and why it can be a good buy, considering various fundamental factors.
How to Buy UL Stocks in 5 Easy Steps
Visit eToro through the link below and sign up by entering your details in the required fields.

Provide all your personal data and fill out a basic questionnaire for informational purposes.

Click 'Deposit', choose your favourite payment method and follow the instructions to fund your account.

Search for your favourite stock and see the main stats. Once you're ready to invest, click on 'Trade'.

Enter the amount you want to invest and configure your trade to buy the stock.
Everything You Need To Know About Unilever
At this point, let's get to know Unilever in more detail, exploring its history, business strategy, money generation methods, and share price performance in recent years.
Unilever History
On the 2nd of September 1929, the Dutch margarine producer, Margarine Unie, and the British soap-maker, Lever Brothers, merged to give rise to what is known today as Unilever PLC. The new company grew rapidly in the 1930s, establishing new ventures in Africa and Latin America. By the second half of the 20th century, the company further expanded its operations to other parts of the world and increasingly diversified into other non-fat-dependent products.
Unilever has made numerous acquisitions over the years. Some of the acquisitions include Lipton in 1971, Brooke Bond in 1984, and Chesebrough-Ponds in 1987. In 1997, Unilever divested its speciality chemicals businesses to ICI, and in 2000, it acquired Best Foods and Ben & Jerry's.
In the 2010s, Unilever started shifting its focus away from food brands, which were showing slow growth, and gradually moving towards health and beauty brands. Other acquisitions made by the company include Alberto-Culver in 2010, Dollar Shave Club in 2016, and Pukka Herbs in 2017.
What Is Unilever's Strategy?
Unilever's business is to produce and distribute consumer goods. Owning around 400 brands, the company is one of the largest consumer brands in the world. Unilever's primary strategy is its diversification, with products in three main divisions: food and refreshments, home care, and beauty and personal care. In the 2010s, the company started shifting its focus towards health and beauty brands, away from food and refreshment brands, which were showing slow growth.
Broad product differentiation is one of Unilever's generic strategies for competitive advantage. The company makes sure its products stand out against competitors. Also, the company develops new products to address consumers' changing needs, as well as maintain or increase the company's market share. The company uses intensive market penetration as a strategy to increase its sales volume and improve revenues. Its business strategy is all about creating high-quality brands that consumers trust.
How Does Unilever Make Money?
Unilever makes money from the sales of its wide range of consumer goods that spans over 400 brands sold in over 190 countries around the world.
For the first half of FY2021, Unilever reported revenue of €25.8 billion, a 0.3% rise year-on-year. The foods and refreshments segment, which comprises products like ice cream, savoury (soups, bouillons, and seasonings), dressings (mayonnaise and ketchup), and tea, contributed €10.2 billion or nearly 40% of total revenue.
The beauty and personal care segment, which includes deodorants, hair care (shampoo, conditioner, and other styling products), skin cleansing (soaps), and skincare (face, hand, and body moisturizers), contributed €10.4 billion (about 40% of the total revenue). The home care segment, which includes washing powders and liquids, rinse conditioners, and a range of various other cleaning products, contributed €5.2 billion or about 20% of the total revenue.
How Has Unilever Performed in Recent Years?
Unilever stock has been trading sideways in recent years, swinging up and down in line with the general economic situation. The stock has only gained 9.0% from the price it traded five years ago, and this may be attributed to the effects of the coronavirus pandemic. As of September 17, 2021, it is trading 15.89% lower than its all-time-high made on the second of September 2019.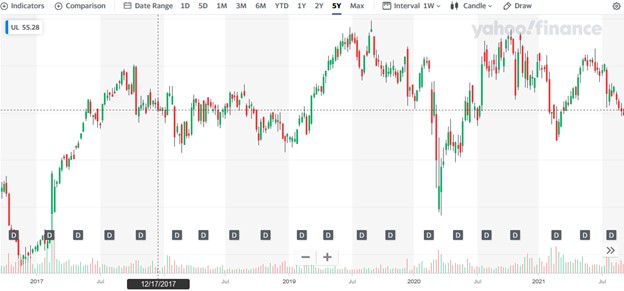 Source: Yahoo! Finance
While investors may not have made plenty of gains from capital appreciation, they gained from dividend income, and the company has a long history of rewarding its shareholders.
Where Can You Buy Unilever Stock?
Buying Unilever stock gives you part ownership in the company, which is different from betting on the company's share price movements by placing a CFD trade or spread bet. To own Unilever shares, you can buy them through a stockbroker that is registered with any exchange where the stock trades, such as the LSE, Euronext, or NYSE, instead of placing bets on popular CFD trading or spread betting platforms. However, some CFD providers allow you to trade both real stocks and CFDs.
In addition to the standard dealing accounts other brokers offer, UK-based stockbrokers also provide shares ISA and SIPP accounts, which are tax-efficient. U.S. residents can also buy Unilever DR through your bank if it has a share dealing arm.
Most Popular
Min. Deposit
$10
Promotion
Trade/invest in stocks with just $10
Deposit with ACA, Wire, Pay with my bank
Invest for dividends and get payout on stocks on Ex-Dividend day
Pros:
Trade/invest in stocks with just $10
Deposit with ACA, Wire, Pay with my bank
Invest for dividends and get payout on stocks on Ex-Dividend day
Payment Methods
Bank Transfer, Wire Transfer
Full regulations list:
CySEC, FCA
Investoo Ltd is compensated if you access certain of the products or services offered by eToro USA LLC and/or eToro USA Securities Inc., as applicable. This compensation incentivizes Investoo Ltd to describe those products and services in favorable terms. Any testimonials contained in this communication may not be representative of the experience of other eToro customers and such testimonials are not guarantees of future performance or success.
Min. Deposit
$0
Promotion
$0 commission and $0 Options contract fees
Upgraded research with advanced charts
Smart Menus for faster trades
Pros:
$0 commission and $0 Options contract fees
Upgraded research with advanced charts
Smart Menus for faster trades
Min. Deposit
$500
Promotion
We offer one of the best execution speeds in the industry with low latency
Award-winning support in 14 languages
Trade with precision from 0.5 pips on EURUSD
Pros:
We offer one of the best execution speeds in the industry with low latency
Award-winning support in 14 languages
Trade with precision from 0.5 pips on EURUSD
Payment Methods
Bank Transfer, Bank Wire, Credit Card, Debit Card, PayPal, Sofort, neteller, skrill
CFDs are complex instruments and come with a high risk of losing money rapidly due to leverage. 68% of retail investor accounts lose money when trading CFDs with this provider. You should consider whether you understand how CFDs work and whether you can afford to take the high risk of losing your money.
Unilever Fundamental Analysis
Fundamental analysis is a way to determine the underlying health and intrinsic value of a company. Investors consider many financial factors when performing a fundamental analysis of a stock. Some of those factors, such as corporate management and goodwill, are not measurable, so we won't consider them in this guide. Instead, we will focus on measurable financial metrics, such as the company's revenue, earnings-per-share, P/E ratio, dividend yield, and cash flow.
Unilever's Revenue
Revenue refers to the amount of money a company generates from selling its products or services before the costs of sales and other expenses are subtracted. A company's revenue is reported at the top of its income statement.
Achieving year-on-year revenue growth is a good signal to investors that the company is doing well. Unfortunately, in the 2020 fiscal year, Unilever reported revenue of 50.72 billion, which represents a 2.4% decline from the previous year. But this could be attributed to the COVID-19 pandemic that interrupted business activities.

Source: Yahoo! Finance
Unilever's Earnings-per-Share
After all costs of doing business have been subtracted from the revenue, whatever is left becomes the company's profit. But what matters to you as a shareholder is the earnings per share (EPS). While you can calculate a company's EPS by dividing the company's total earnings by the total number of outstanding shares of its common stock, you don't need to do it yourself since you can get that metric from your stockbrokers' website or any of the major financial websites. Unilever's annual EPS for the 2020 fiscal year was $2.42.
Unilever's P/E Ratio
This financial ratio compares a company's share price to its earnings-per-share. You calculate it by dividing the current share price by the annual EPS. When the P/E ratio is high, the company is considered overvalued, but investors might keep investing in it if they anticipate huge earnings in the future.
Unilever's annual EPS for the 2020 fiscal year is $2.42, while the stock price on the NYSE at the time of writing (September 17, 2021) is $54. So, its P/E ratio is about 22.31 (54/2.42). What this means is that, at this time, investors are ready to pay $22.31 for every dollar the company earns in profits. Then, you can compare this figure with industry peers, such as Procter & Gamble, to find out if this figure is too low or too high for this industry.
In this case, P&G has a P/E ratio of 26.03 as of this writing; thus, Unilever's stock price may be priced low (undervalued); however, to make an educated investment decision, you could further compare Unilever's P/E ratio with the average P/E in the industry, or even the overall stock market. Also, it's important to use other indicators to have a better insight into the company's performance before making a decision.
Unilever's Dividend Yield
Some companies regularly pay dividends to their shareholders. In some cases, this may be the most important way investors gain from investing in those stocks. Dividends can be paid quarterly, semi-annually, or annually, and whenever they are declared, the share price rises until the ex-dividend date, and then, it declines. The dividend yield is seen alongside other financial ratios on the stockbroker's website or any of the major financial websites.
A company's dividend yield is a metric that compares its total annual dividends to its share price. For example, if the annual dividend is $1 per share and the share price is $54, then the dividend yield is 1.85%. Comparing the yield with the interest rate tells you whether it is better to keep your money in the bank than buy the stock. However, your stock investment can also gain from capital appreciation.
Unilever's Cash Flow
A company's cash flow refers to how the company manages its cash. The cash flow statement is one of the three financial statements you need to study when analysing a company, and you will see it beside the other financial statements in the financial section of the company's information on a broker's website or any of the major financial websites, as in the picture below: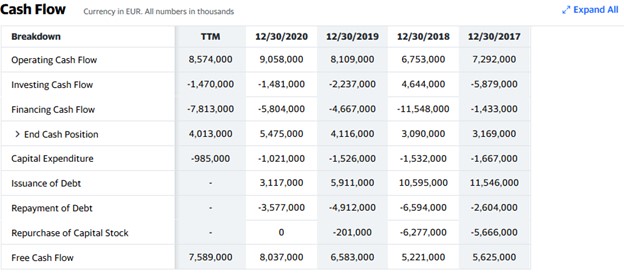 Source: Yahoo! Finance
The free cash flow figure shows how much cash the company has left after paying for major expenses. This is the cash the company has to fund expansion, pay dividends, or pay down debts. From the image above, you can see that Unilever had over €8 billion in free cash flow.
Why Buy Unilever Stocks?
As with the stocks of many consumer goods companies, Unilever stock has underperformed the market in recent years. Even when you compare it with its peers, you would notice that the stock hasn't done so well. For example, over the last five years, it has underperformed the Vanguard Consumer Staples ETF (NYSEARCA: VDC).
Nonetheless, these are some reasons you might want to buy Unilever stock:
The stock is relatively cheap at $54 per share (Sept. 17, 2021), trading some 15.89% off its all-time high; you can potentially ride it back to the top.
The company is innovative, always coming up with new products that consumers love.
You can get regular income through dividend payments.
Expert Tip on Buying Unilever Stock

"

Unilever can be used to create a recession-proof portfolio. Given its expansive business activity in the consumer staples industry, it is one of the few companies considered non-cyclical. In other words, you can invest in it if you want to add stocks to your portfolio that remain relatively stable in times of crisis. Since many of the goods it sells stay in demand regardless of the business cycle (i.e., detergents, deodorants, and others), Unilever could help you round up your income even when the stock market crashes.

"
Buy Unilever Stocks Today!
5 Things to Consider Before You Buy Unilever Stock
Here are five things you must consider before buying any stock:
1. Understand the Company
Before putting your money on any stock, try to understand the company. Being familiar with a company and its products should not stop you from performing a fundamental analysis to know the status of the company's financial health before investing. You must check the management team, their previous achievements, the business strategy, future plans, competitive advantages, and market position.
2. Understand the Basics of Investing
Before risking your money in the market, learn the basics of investing. Things to learn include position sizing, setting a stop-loss order, and how to build a diversified portfolio to minimise risks. It is advisable to "paper trade" in a demo account first before committing money to the market. However, paper trading may not offer you the psychological effects that come with investing with real money.
3. Carefully Choose Your Broker
There are a lot of factors to consider when choosing a broker to invest with. The most important is to find out whether the broker is licensed by the financial services regulator in your country. This would make it harder for the broker to run away with your money. Moreover, if there are investors' insurance schemes, such as the UK's financial services compensation scheme (FSCS), you stand to benefit from it. Other factors include trading fees, payment methods, and trading platforms.
4. Decide How Much You Want to Invest
You have to determine how much you want to invest and where to get the money. Do not invest the money you use for your upkeep or paying bills, and never borrow money (whether from a broker or credit card) to invest, no matter how good the opportunity looks, unless you are experienced and know how to use leverage. Invest with only your surplus cash you can afford to lose because anything can happen in the market at any time. When you have some money to invest, determine the percentage to commit to one stock.
5. Decide on a Goal for Your Investment
Now that you are ready to invest, what is your investment goal and plan? It may be that you want to build your pension fund or generate money to fund a project. But how long will you hold your investment? You have to decide whether to sell when the fundamentals are weak, when the price reaches a particular level, or when you need money.
The Bottom Line on Buying Unilever Stocks
Unilever is a multinational conglomerate that produces and sells different kinds of consumer goods. The stock has a long history of paying dividends to its shareholders, and you can buy it through a stockbroker with access to the LSE, Euronext, or NYSE.
Are you ready to invest right now? Just sign up for a stockbroker's share dealing account, look for Unilever on its platform, and place a buy order. You can place a market order or a limit order.
However, if you're not ready to invest right now, read our other guides on our website to get more information about investing. You can also "paper trade" with a stockbroker's demo account.
Frequently Asked Questions
A dividend is a cash reward a company pays to its shareholders for investing in the stock. It is a way a company distributes a portion of its earnings to its shareholders. The amount that is not distributed (retained earnings) may be re-invested in the business. Dividends are another way investors make money from investing apart from capital appreciation.

Capital appreciation refers to a rise in the price of a stock after buying it. It is the difference between your purchase price and the price you sell and can also be called capital gain. For example, if you buy a stock at $5.00 and sell at $7.25, you have made a capital gain of $2.25.

A demo account is a practice account that brokers allow their clients to open and simulate stock trading. The account is normally funded with virtual currency, which prospective clients can use to practice how to trade in the market. However, it does not enable users to develop trading psychology because real money is not on the line.

A diversified stock portfolio refers to investing in multiple stocks instead of just one stock. That is, you spread your capital across different stocks instead of committing all the money in one single stock all in one go. For instance, if you have $10,000 to invest, you can spread it across 10 non-correlating stocks and invest $1,000 in each of the 10 stocks. This way, you have a diversified portfolio of stocks.

A market order is an order to buy or sell a stock at the best available market price. In other words, you will buy or sell immediately - as long as you place your order during trading hours. If not, your transaction will take place when the market opens.

A limit order refers to the type of order investors use to buy or sell stocks at a specified price or better. In the case of a buy limit order, the order will be executed only at the set price or a lower one. For a sell limit order, the order will be executed only at the set price or a higher one.